Hi all!
If you find a player advertising coin selling, please report it using the report button in-game. You can access it by opening the respective player's profile and tapping the (...) button below their profile picture.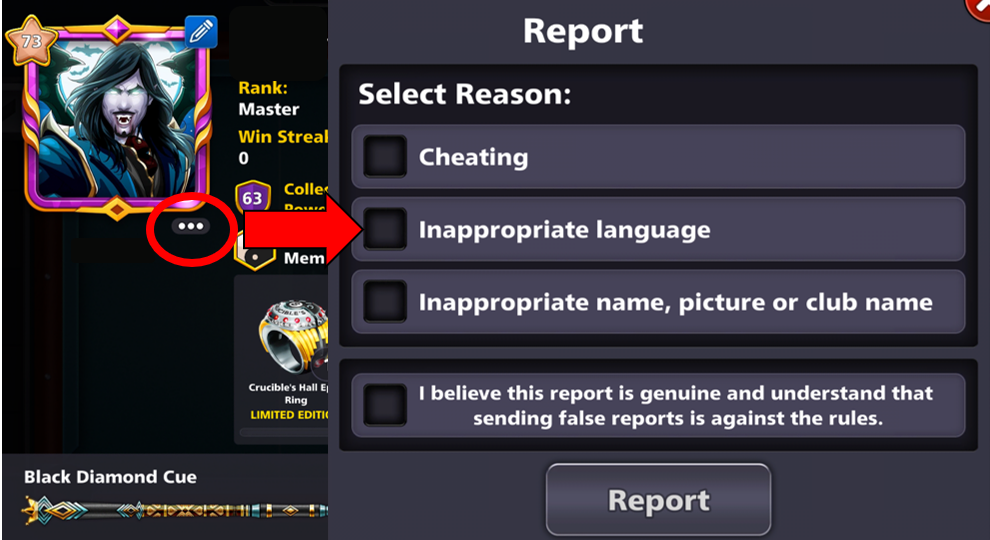 Please notice that the only place you are able to buy coins/cash or any virtual currency is at our in-game Pool shop, our 8 Ball Pool Shop or with our partners at www.codashop.com (if available for your location).


Do NOT trust any websites, e-Commerce sites, players or Facebook pages that promote coin selling, as they are NOT affiliated with Miniclip.


Unfortunately, when a player uses one of those illegal sellers, your account can be temporarily suspended or permanently banned and we will not be able to recover that account (Read more here: Suspensions, bans, Clubs and exploits-related related issues).


Additionally, you are risking your account's security and the loss of your money.

We have often seen that player's accounts have been hacked due to the illegal sites (read more: Scam Sites and/or player losing all the money paid without receiving any coins. Please do not risk your money or your account's safety - any savings you might think you can have are not worth the high risk you are taking.
These sites and people will also have access your personal data, such as payment information and email, which they can then use for further scams.


We also would like to ask you for your help! If you find any page that looks suspicious, please:
Go to our Web Form https://support.miniclip.com/hc/en-us/requests/new
Select the game, select those fields:
On the other hand,
We will investigate the situation as soon as possible.