We have six types of chests on Golf Battle. By playing any game mode you can get a: Basic, Advance or Pro chest, this chests are timed and you can only get them if you have an "Empty Slot" available.
Basic 3 hours to be unlocked;
Advanced 8 hours;
Pro it will take 12 hours;
You can use in-game gems to unlock them at that moment, by performing this it will also open a "Empty Slot".
The other chest types "Elite Chests" are available at our Shop and can be only purchased using in-game gems or if you got them through the Lucky Shot.
Premium 190 gems;
Champion 390 gems;
VIP 900 gems;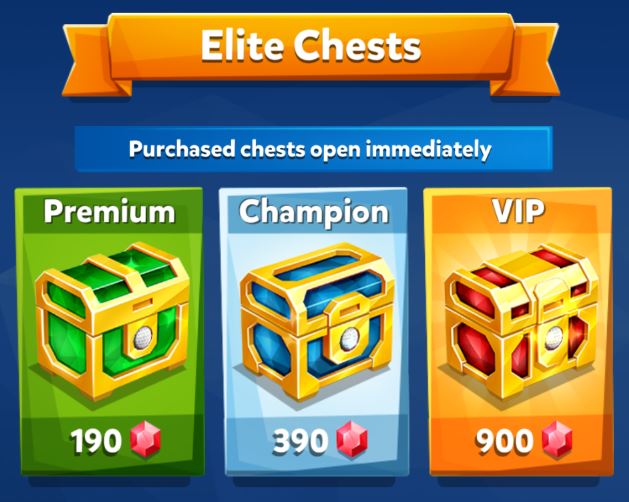 Also, remember that any of this three chest when purchased are immediately open.
On our Shop you can also check for any new daily deal. If you are looking for a specific Club and you find it on our Shop you can use in-game gems to purchase it. You will always have one Club from each type (Normal, Premium or VIP) and also one from each arena.
You have a limit of cards you can buy and remember, if you purchase one, the next card will be more expensive.