We are now introducing a new feature in Golf Battle, the Collections!

Completing and upgrading your collection will be even more important!
Make sure to upgrade your clubs and collect all the balls, trails and hole effects and cosmetics of a collection in order to receive prizes, increase the multiplier and unlock new frames!


1. What is the multiplier?
The multiplier allows you to increase your leaderboard points and it is based on the completion of your collection.


2. How is the multiplier calculated?
The multiplier value depends on your collection. Each club is part of a collection. Each collection also has a ball, a trail and a hole effect. Not all cosmetics are part of a collection.
Getting all of the components of a collection add 0.1 to your Leaderboards score multiplier (that starts at 1.0)

Bear in mind that collections can be levelled-up by upgrading all the clubs in it.
Example: if all the clubs of a collections are at level 2, then the bonus is 0.2 and so on until everything is maxed out. The level of the collection is equal to the level of the club with the lowest level.
Maximum multiplier added by a collection is 0.7, when all the clubs are maxed out. Maximum multiplier is 17.8
3. Where can I see the completion of my collection?
Tap on your profile picture and then on "View" in order to see your collection.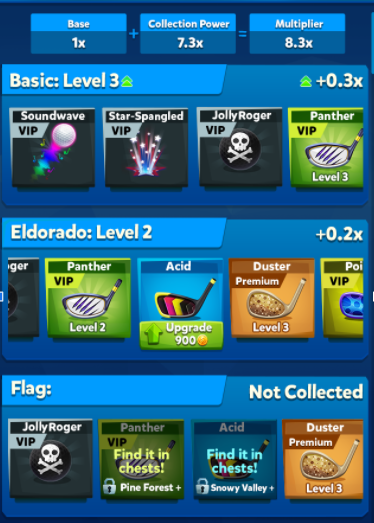 4. What does the multiplier affect?
The multiplier affects only the points obtained toward the leaderboards. It has no impact on the gameplay, nothing will change while you are competing in the pitch!
5. What does the player's frame mean?
Around the player's portrait picture, there should be a frame that evolves depending on the multiplier of the player.
It starts as the current basic frame at 1 multiplier, evolving every 1 multiplier in this order:
Basic, Wooden, Copper, Iron, Steel, Bronze, Silver, Gold, Platinum, Pearl, Ruby, Citrine, Topaz, Emerald, Sapphire, Amethyst, Diamond
6. Can I see other players' multiplier?
You can see another player frame and multiplier around his profile picture (for instance in the leadebrod or by tapping on his personal profile).