Chess Clash is a new one-vs-one tabletop strategy game from Miniclip where each player controls 6 unit types, with a total of 16 pieces per player.
The rules are simple, but the variety of moves and strategies makes Chess one of the hardest games to master. Are you up for a challenge?
Prepare for a mental battle and don't leave a way out for your opponent!
On an 8x8 square chess board, each piece moves in a unique way and can capture other pieces, by taking over the square the captured piece occupies.
The classic goal of the game is to checkmate: to position pieces in such a way that the King piece is under an inescapable threat of being captured!
First time opening the game
You will be greeted by a hand pointing towards the Play Classic Chess button, this is where you will encounter your first match.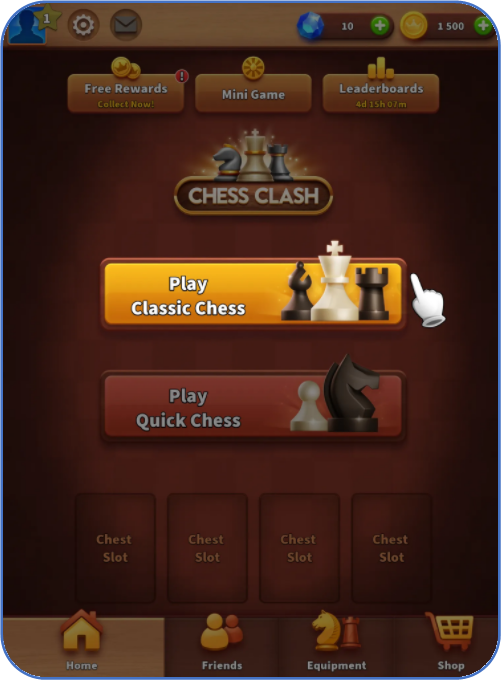 Once you have selected the button and you have found an opponent you will be greeted with the game board. The helping hand will point towards a pawn, one of the first pieces you will move.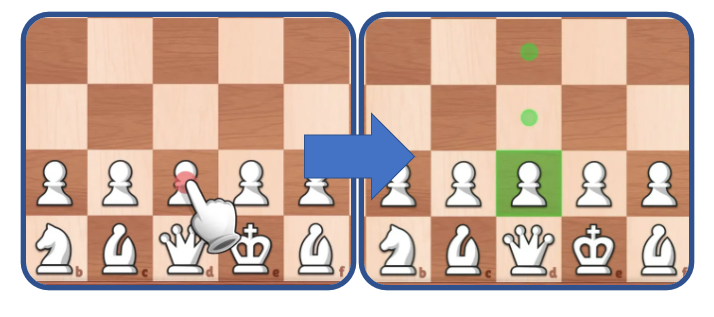 Each piece moves in a different way, and you can see that when selecting the piece. The square will turn bright green and green dots will show you where this piece can go.
Basic Actions
In a turn, each piece can make a unique movement pattern into an unoccupied square.


Rook

Move any number of squares horizontally and vertically

Queen

Move any number of squares in any direction

Pawn

Movement:

Moves vertically forward.
In the first turn, can move up to two (2) squares, if the squares are not occupied.

Capture:

Diagonally forward one square.

Knight

Can move two squares vertically and one horizontally, or two horizontally and one vertically (drawing a shape of an L)
Can jump over pieces to complete its movement

King

Move one square in any direction (an exception to this is "Castling").
Cannot move into a position where it becomes menaced by a hostile piece (Check).

Bishop
Move any number of squares diagonally
To capture a piece, the attacking piece must finish its movement in the square where the opponent piece is resting. This piece is then replaced by the attacking one, and removed from play.
This will happen when a King is in a position where it can be captured by a hostile piece. To remove the King from a check position, the player can do the following:
- Capture the piece threatening the king.
- Move the King
- Block the threat.
This happens when the King is in an inescapable threat of being captured. By doing this, you win the game.
Home Screen
This is where you will do your preparation for your next match, check the leaderboards and access most features of the game.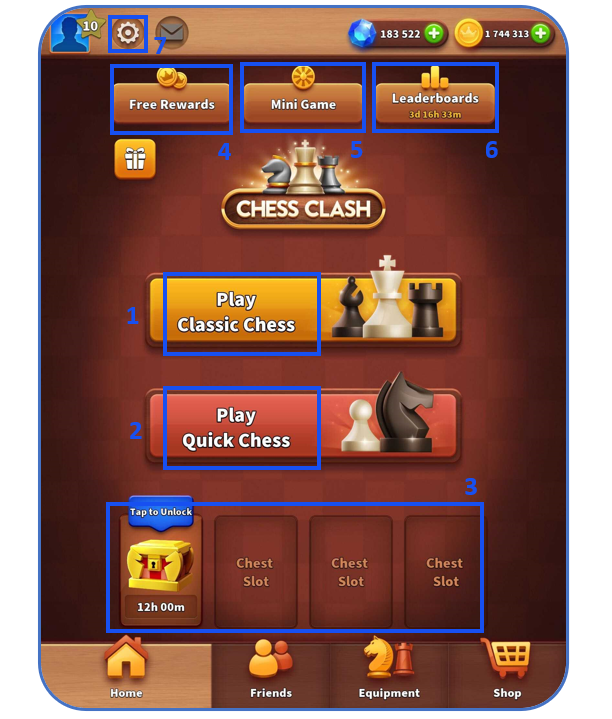 1 - Classic Chess - The total time for each player to play will vary between 10 minutes, to 10 minutes + a 10-second bonus (for every time the player performs a move) depending on the tier you will be playing in that mode.
2 - Quick Chess mode - The total time for each player to play will vary between 5 minutes, to 5 minutes + a 5-second bonus (for every time the player performs a move) depending on the tier you will be playing in that mode.
3 - Chests Slots - There are three types of chests that can be acquired from winning matches: bronze, silver and gold chests. Upon winning a match the player will be awarded with a random quality chest from the board played on. This chest will go to one of the four slots to be opened (provided there is one free space available).
Chests require a certain amount of time to be unlocked and only one can be opened at a time. It is possible though to skip this and immediately unlock the chest using gems.
Quick tip: try to maximise the amount of chests you open, by choosing the right ones at the right time. For instance, overnight, unlock a golden one because that one takes a long time. For sessions that you know won't be as spaced out, opt for a bronze or silver chest.
4 - Free rewards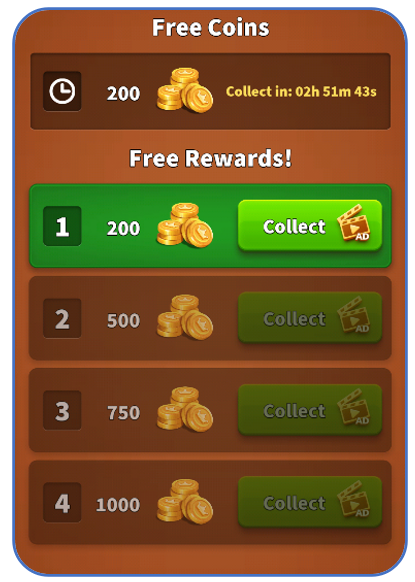 It is possible to claim free rewards on a daily basis. However, keep in mind that this is only possible if there are ads available at that given time. In some cases, you might have to wait until new ads are available in order to collect these rewards.
5 - Minigames - This feature isn't yet available, it should be coming soon!
6 - Leaderboards - These work like in other Miniclip games:
League leaderboard: this is decided based on the rank of the account. Rank up to move up in the league you're in.
Friends leaderboard: where you can keep track of your standings compared to your friends.
Country leaderboard: the national ranking.
World leaderboard: as the name suggests, this is the world ranking, the most competitive leaderboard where the best players in the world compete to be the number 1.
7 - Settings - It's worth mentioning that the settings can be adjusted here. Account, game options and relevant information about the game can be accessed in this menu. So take some time to look at these options and make the necessary adjustments.
Quick tip: Remember to link your account to Facebook, Google Play or Apple ID to keep your progress safe, in case you delete the game or reset your device. This is also the only way of transferring the account to another device. Why and how to save a guest account
Equipment Menu
Equipment such as Chess Sets and Boards can be acquired from opening chests.
Every piece of equipment has a description displaying in which chests they can be acquired from.
Chess Sets - These can be found and upgraded by finding pieces from chests and each level provides you with an XP boost. Also, each set is unique and when equipped the chess pieces used in a match have a specific design!
Boards - These can also be unlocked by finding pieces from chest. When equipped, the chessboard will have a different visual.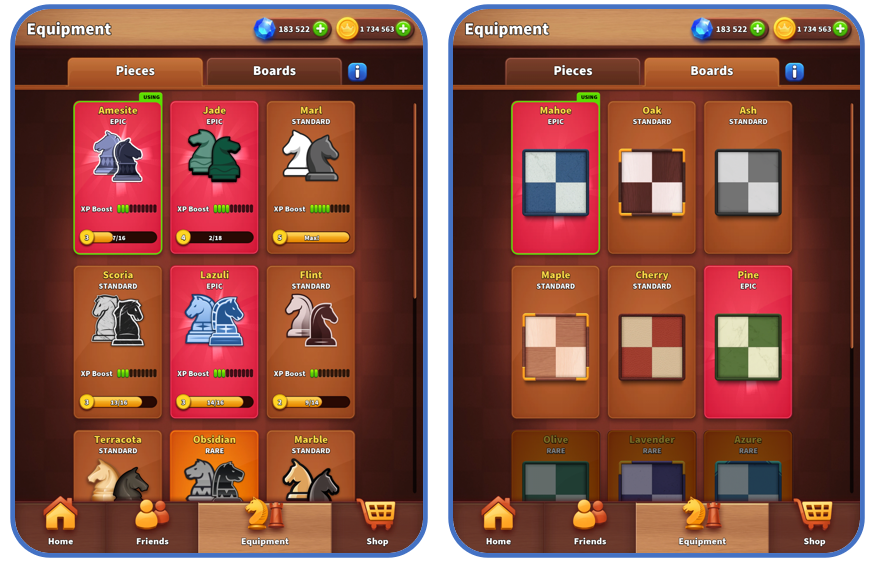 Quick tip: do keep in mind though it's also important to manage the currency that you have, remember to save some initially and not immediately upgrade every single piece or board you have, or you might struggle paying the entry fee to join matches. It's important to balance things out!
Shop Menu - Finally, the shop is where you can find all the available offers. You can purchase chests, coins and gems, depending on your needs.
The shop also offers three other types of chests: Pro, Master and Supreme chests.
As the game is tweaked and improved with new content, we plan to add unique offers as well.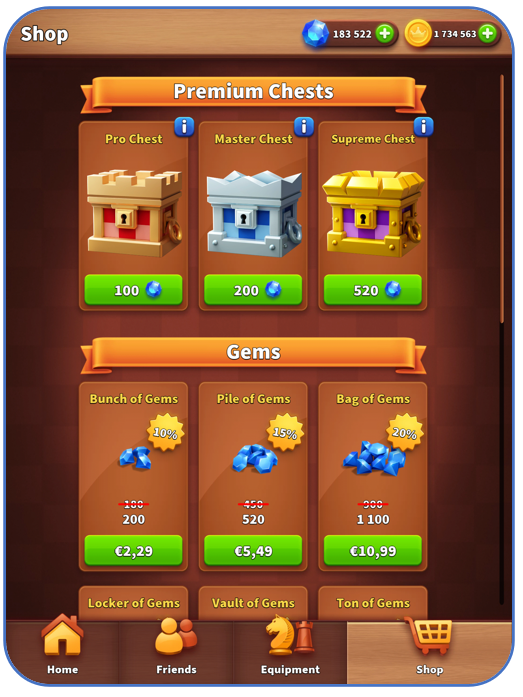 Matchmaking - The system tries to match players of similar skill levels. We know that sometimes there can be gaps between the player level, but we are using a system that should be fair and we will continue to tweak in the future.
During a match players have the possibility to interact with each other by pressing the speech bubble button on the bottom of the screen (image below). It is possible to send emojis, pre-made messages or using a chat system. The chat system is only available for players who are on each other's friends list.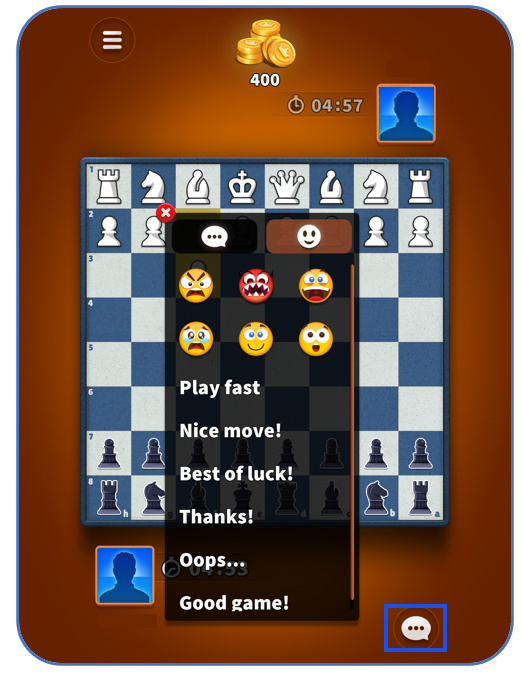 Closing notes
Chess is a game that is easy to understand and difficult to master, and is one of the world's most popular games, played by millions of people worldwide at home, in clubs, online, by correspondence, and in tournaments. It's normal to feel lost in your first matches, however once you have grasped the the basics, you will be on the way to the top of the leaderboards.
We hope this article helped clearing some questions and gave you some tips to improve your game style!
Let us know what you think of Chess Clash. All constructive feedback is welcome, especially in this early stage of the game and have FUN!! 👍