Agar.io is a massively multiplayer online game. Players control one or more circular cells in a map representing a Petri dish. The goal is to gain as much mass as possible by eating agar and cells smaller than your cell while avoiding larger ones which can eat you! Each player starts with one cell, but players can split a cell into two once it reaches a sufficient mass, allowing them to control multiple cells. The name comes from the substance agar, used to culture bacteria.

Download Agar.io now!

ANDROID
iOS
Agar.io has two versions of the game, the mobile version 📱 and the web version💻. Both games are identical in terms of gameplay, and you can use the same account for both of them, however the two version are separate.
Players who use the web version💻 do not play with players from the mobile version 📱.
Web version💻 players have access to the experimental game mode and the layout of the main screen is a bit different, however, the buttons are kept the same for easy navigation.
First time opening the game
Upon opening the application for the first time you will be introduced to the main screen, with a small arrow pointing towards the classic game mode.
Once you select the button, you will be on your way to become the biggest cell, however, watch out - other players can eat you too.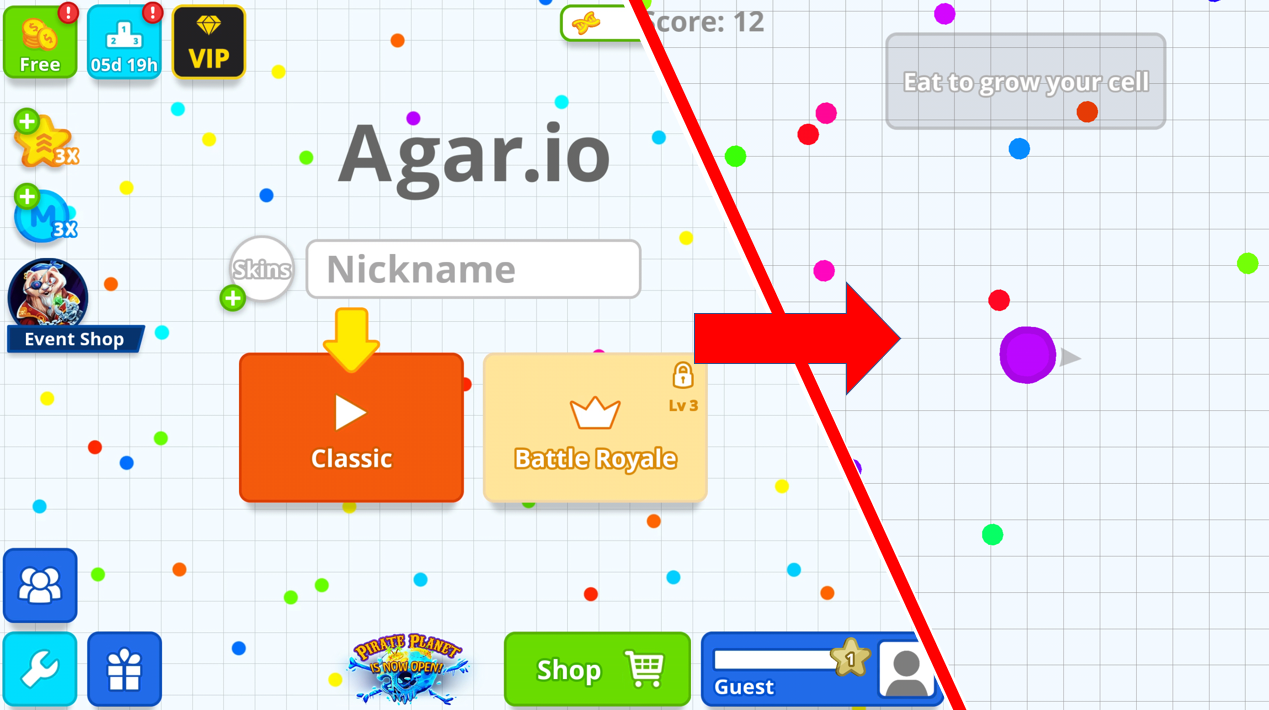 Controls
The game is easy to learn and hard to master. Knowing where to go is one of the key aspects of the game.
Mobile Version 📱
Movement - Tapping and dragging anywhere on your screen will display a small joystick that controls your cell's movement.
Shoot - Represented by a circle and a small reticle, it lets you shoot mass in the direction where are you pointing your joystick.
Split - Represented by two circles on each side of a line, it lets you split your current cells, allowing you to cover more area.
Web Version 💻
Movement - Your cell will follow your mouse cursor on the screen, so simply use the mouse to lead your cells to victory.
Shoot - the W key, it lets you shoot mass in the direction where are you pointing your mouse cursor.
Split - the SPACE key, it lets you split your current cells, allowing you to cover more area
Home screen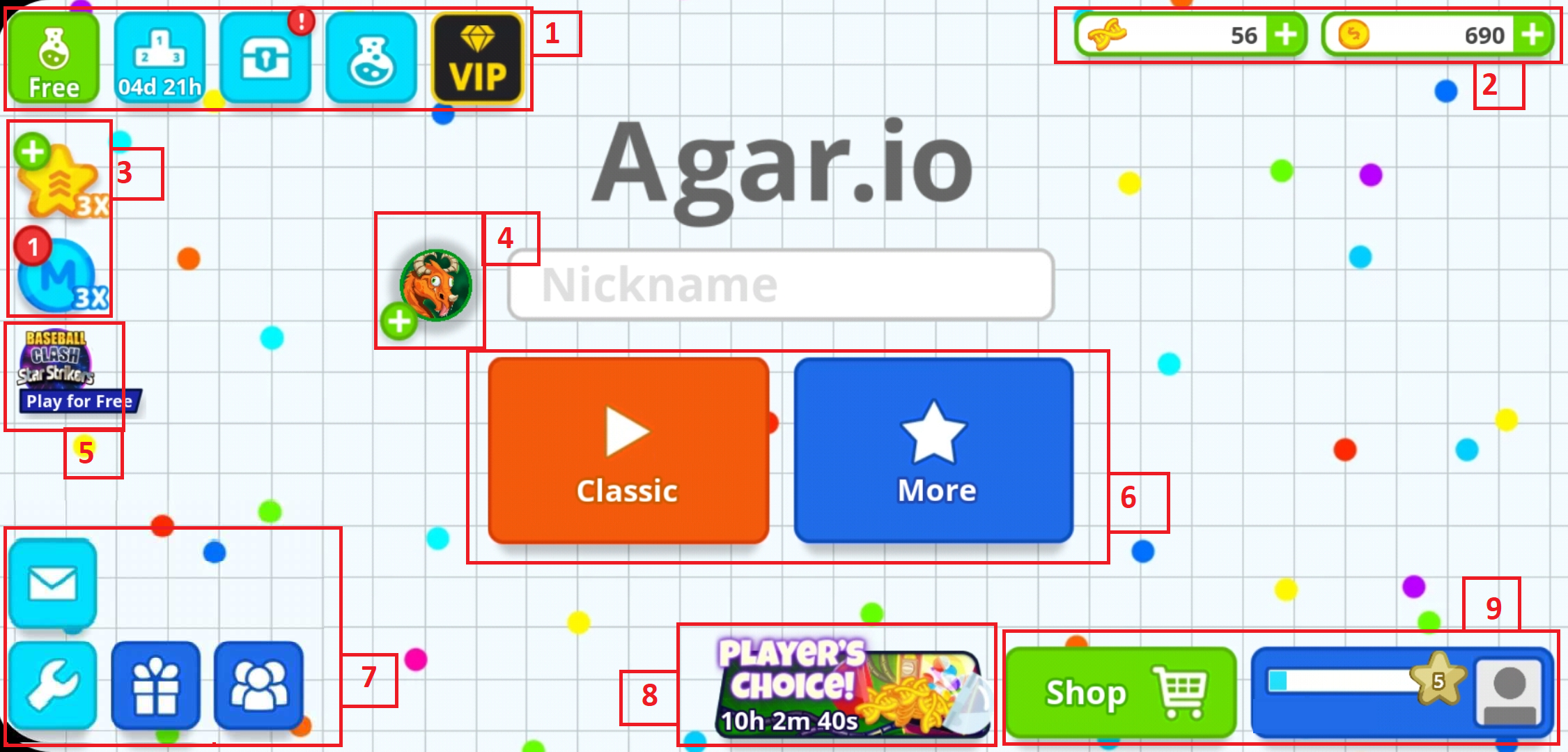 1.
Free Rewards - Arguably the best kind of rewards that a game can have! Here you can find coins, DNA, and skins.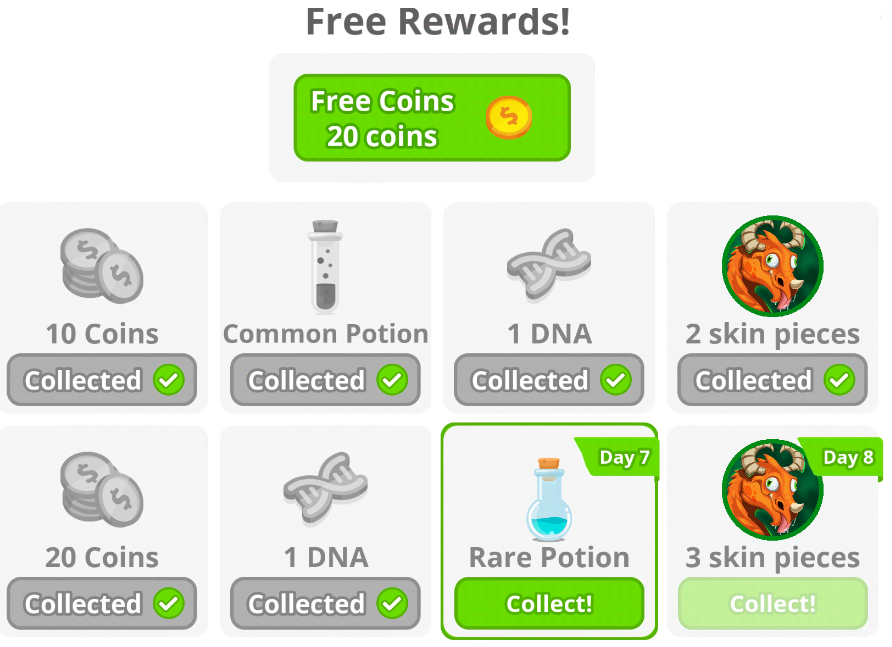 Leaderboards - Here you can find your league, the friends leaderboard, country leaderboard, and the world leaderboard where you can check your progress in each of them.
Daily quest - Where you can check what quest you have received each day.
Potions - Currently, there are two main types of Potions: Mystery and Premium. Mystery Potions are earned based on player game performance and need to be brewed to open. Premium Potions must be purchased using the DNA currency and are already brewed and open instantly.
Mystery Potions
Premium potions
Quick tip: try to maximise the amount of potions you brew, by choosing the right one at the right time. For instance, overnight, brew a rare or mythical potion because they takes a long time. For sessions that you know won't be as spaced out, opt for a common or exotic potion.
2.
DNA Balance - All the DNA you have gained will be displayed here and tapping the + will take you to the shop.
Coin Balance - All the coins you have gained will be displayed here and tapping the + will take you to the shop.
3.
Exp Boost - Used to boost the experience you receive
Mass Boost - Used to boost the mass you receive
4.
Skins inventory - You can change your skin using this button. It will automatically take you to the skin inventory and shop where you can equip or purchase new skins.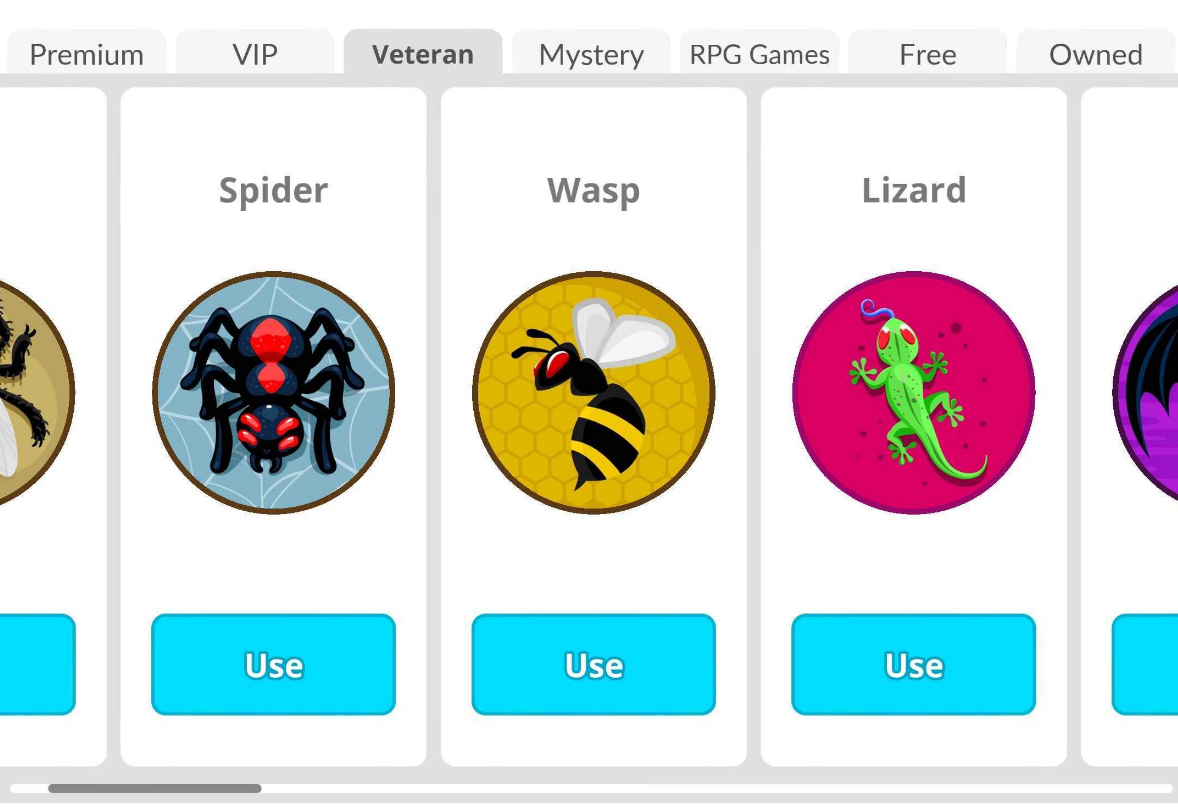 5.
Event shop - The event shop is only available during an event. Here you can purchase exclusive items.
6.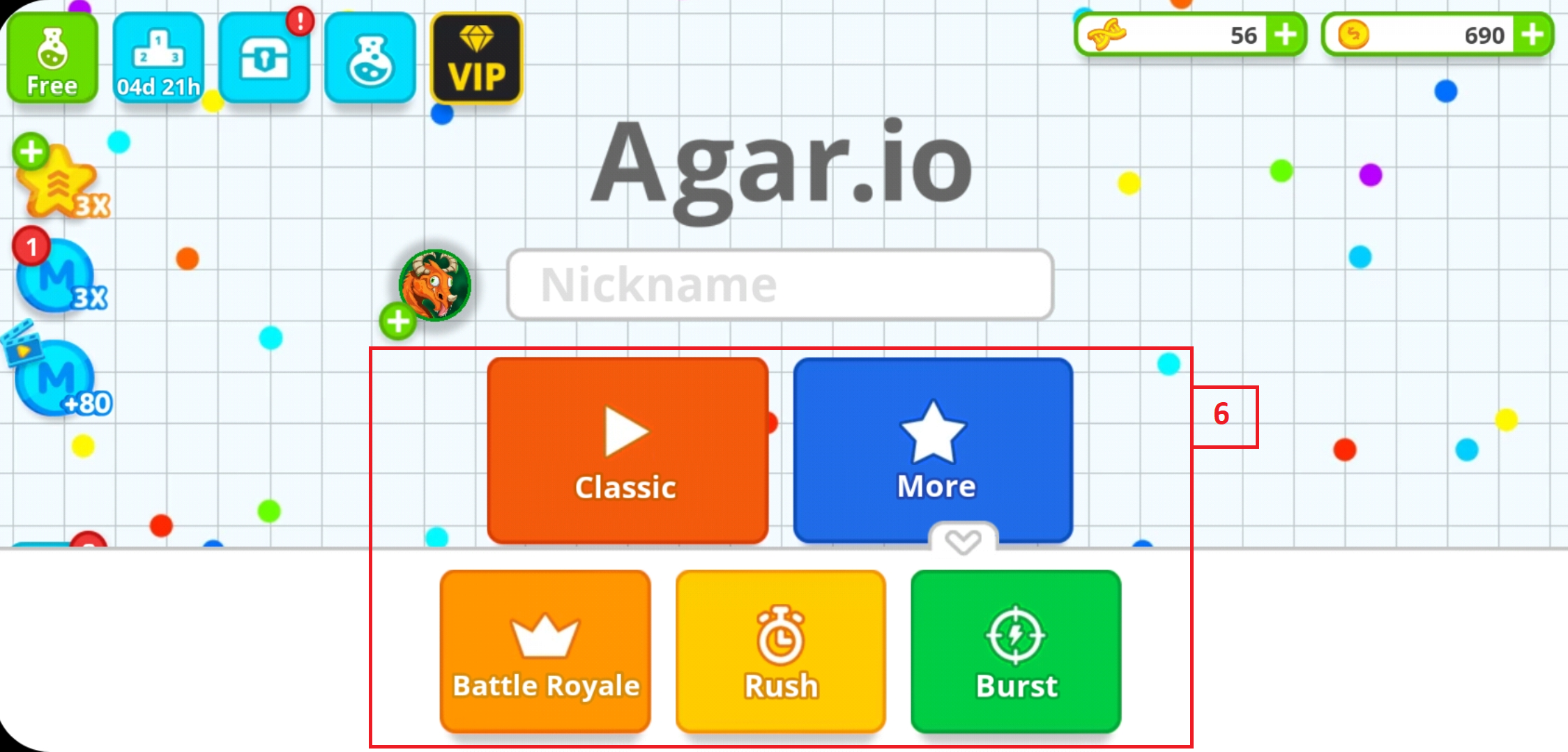 Classic mode - Standard game mode
Battle Royale mode - In Battle Royale, all players start with the same mass. The playable area (Safe Area) shrinks over time. Players outside the safe area split and lose mass until death. The last player alive wins the match.
Rush mode - Players have to get as much mass as they can before the time runs out
Burst mode - This game mode works the same way as the classic mode. However, instead of the eject button, you will now have the burst button which will allow you to eject more than one cell at the time.
Experimental mode - As the name suggests, it's a game mode where the developer can test out new features and mechanics. If you play on the experimental game mode, you may encounter some new and possibly weird mechanics. Experimental mode is available only on the Web Version 💻
7.
News - Here you can check the latest news related to our Games.
Party mode - Where you can create or join a party. Once in a party, you will be able to play together.
Gift center - You can send or request a free gift to each of your Facebook friends every day.
Settings screen - All of your settings can be found here, like changing the button position, game sound, and language.
Quick tip: Remember to link your account to Facebook, Google Play or Apple ID to keep your progress safe, in case you delete the game or reset your device. This is also the only way of transferring the account to another device. Why and how to save a guest account
8.
Special Offers - Here, you can find unique bundles with exclusive skins.
9.
Player Profile - Most of your stats will be shown here, from total games played to best survival and much more.
Shop - Most items in the game can be purchased here, anything from coins, DNA, potions, skins and boosts.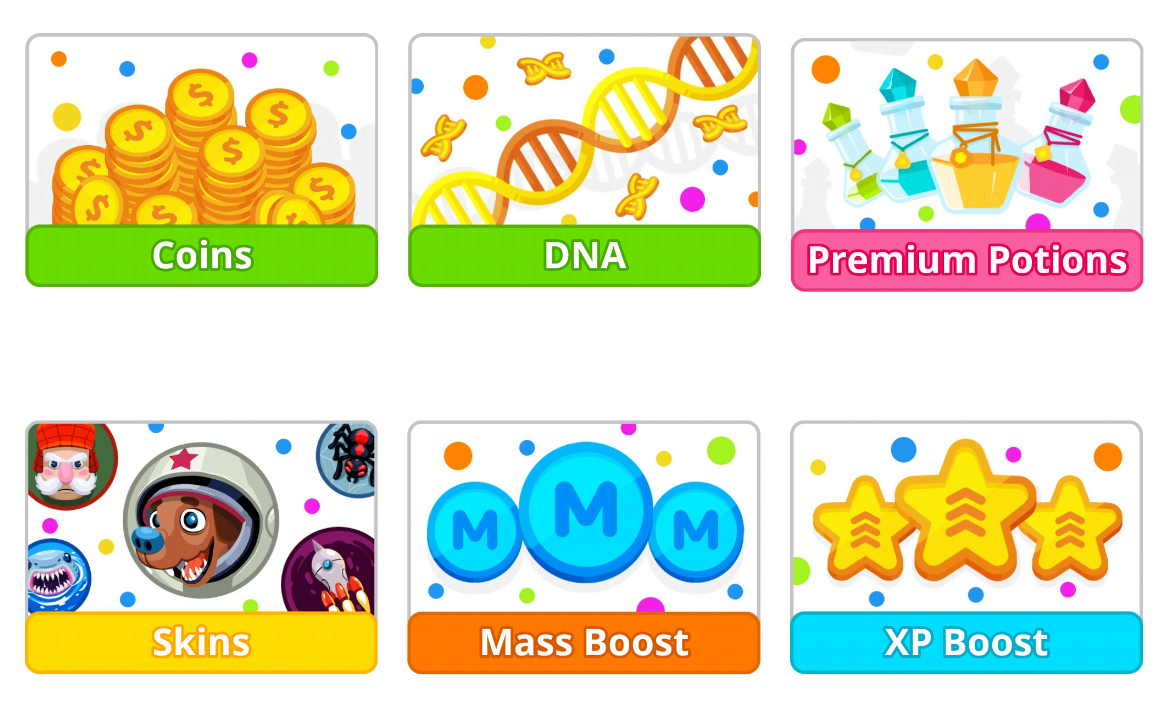 Closing notes
The game is quite simple, however, there is a lot of tactical depth to it. Where you go is one of the most important factors. What separates new players from veterans is planning where you will go, and positioning. Always keep an eye out, it's a Cell-eat-Cell world out there!
We hope this article helped with clearing up some questions and gave you some tips to improve your game style!


Let us know what you think of Agar.io. All constructive feedback is welcome, as we are constantly looking for ways to improve the game.
Good luck and most importantly, have FUN!! 👍