Soccer Stars brings the action onto the football pitch! A multiplayer game to play with friends, filled with new features and addictive gameplay.
Take to the football field, play against the best soccer clubs in the world and win the soccer world cup, all while challenging your friends in this 5-star multiplayer online & offline game.

Download Soccer Stars now!

ANDROID
If you love Soccer or Football games, you'll want to score with Soccer Stars. With table-top style game play and great physics, Soccer Stars is easy to pick up and fun to play!
● Challenge opponents from around the world in iconic soccer locations!
● Collect different teams, show off your style and defend your nation's colours!
● Progress through the top Tournaments for big rewards!
Your first Steps in the game
You will be greeted by a arrow pointing towards the Play 1 on 1 button, this is where you will encounter the tutorial.
Simply follow the instruction provided on the screen, and you will learn the basics of the game.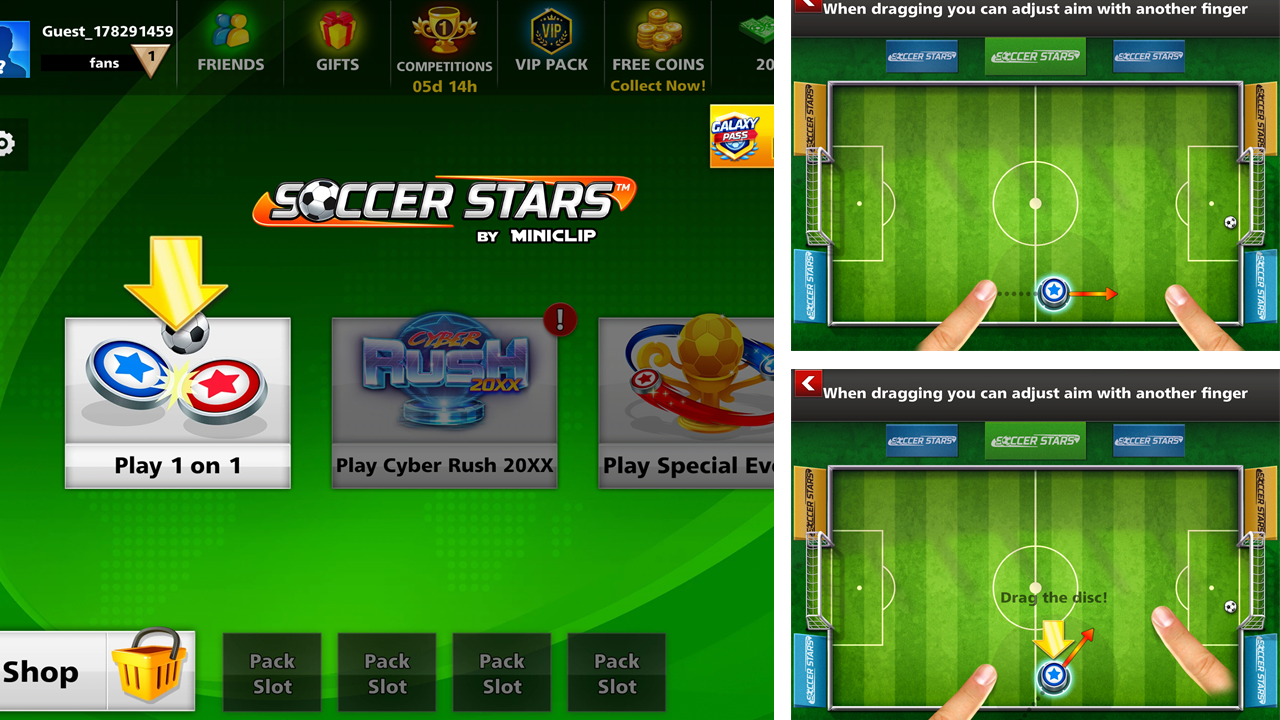 Once you have finished the tutorial, you will have your first match, and shortly after, you will be presented with the home screen.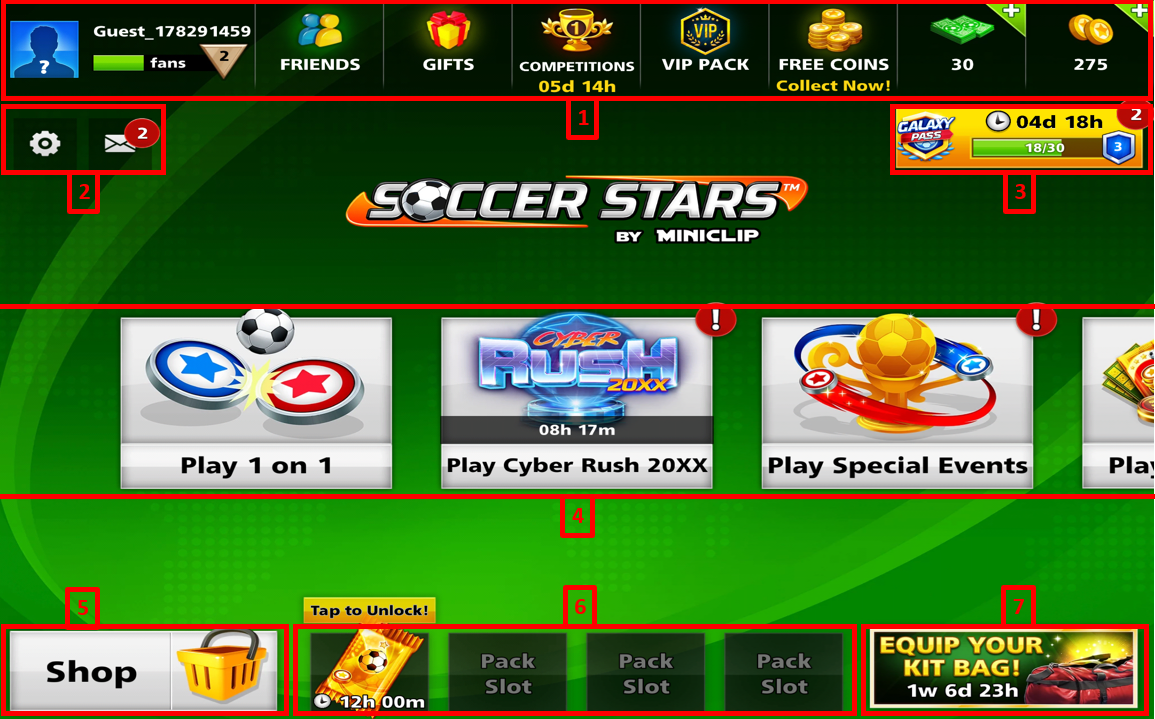 1. Top Menu bar - From left to right you can find the following:
A - Profile - You can find your your stats, achievements, boots and change your avatar from this screen.
Achievements - they are earned by completing milestones, and are used for bragging rights.
Boots - are a collectible in Soccer Stars and a chance for you to show off just how good you really are. You need to win games to unlock them, with each tier in the game having its own style of boots for you to earn.
Boots add an extra dimension to the style of your team. This means that your opponent will know he's up against someone with some serious Soccer Stars skills!
There's a different set of boots to collect from each 1v1 tier and each tournament. Plus, you can win multiple sets of the same boot to tweak the style of your team even further. Good luck!
Avatar/Nickname - Understand that you can have several types of accounts in Soccer Stars.
A Google Play connected account will change the game profile picture accordingly to the one you have on your Google Dashboard.
A Facebook connected account will change the game profile picture accordingly to the one you have on Facebook.
You cannot add or change a profile picture with a Guest account.
It is also not possible to change the nickname of any account.
B - Friends - You are able to challenge them directly from this list, just by pressing the challenge button and selecting the tier.

The edit button allows you to remove some friends from that list or invite others to install and play Soccer Stars with you. You are also able to add new friends that you don't have on Facebook. Press "Add new friends" in the bottom of that page and search for the name of the person, or better yet, enter the Unique ID if you have it.
C - Gifts - You will be taken to the Gifts page.
In the Inbox tab you will get items sent by your Friends.(You still need to press "accept"). By selecting the "Send Gifts" tab, you can then send free coins or request free gifts.
You might get a pop up from Facebook requesting authorisation for this.
You also have both tabs "Soccer Friends" and "All Friends". Remember, not everyone has Soccer Stars installed, and not everyone likes to receive gifts from games.
D - Competitions -
You'll automatically enter into 4 separate leader boards – Friends, Country, World and My League – and there are prizes to be claimed for finishing in the top 3 each week. Remember, you climb the leader boards by winning games and coins.
My League works in the same way, but you're matched with a smaller number of players of similar level and coin balance to yourself – this gives you a better chance of finishing in the top 3. Of course, the harder the leader-board, the bigger the prizes you can win. You progress to higher leagues by earning XP and levelling up in the game.


As you move through the leagues, you'll also unlock special packs in the shop. These let you buy bundles of items using your bucks. The higher your league, the better the bundle! Some of them even have exclusive teams for you to collect.
E - VIP -
is a status that will grant you extra rewards everyday and 3 animated teams!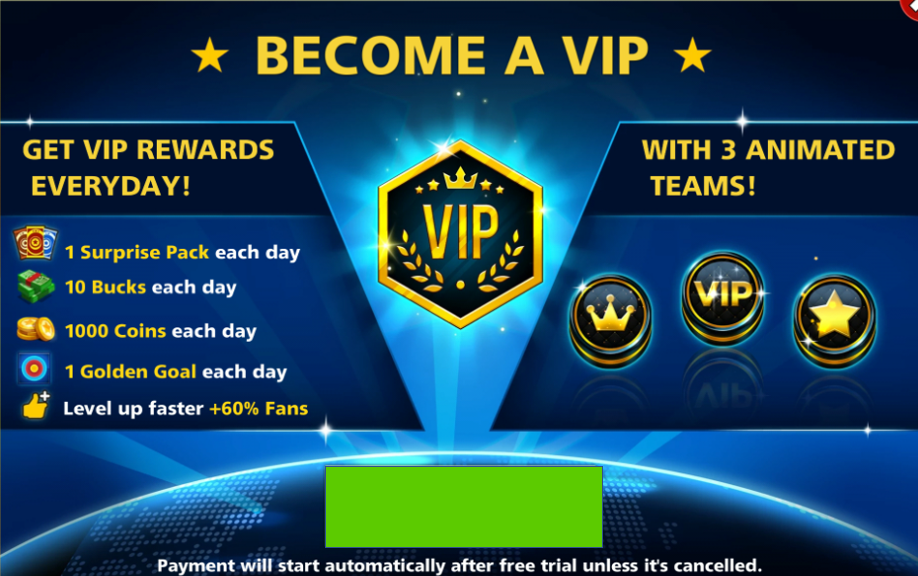 F - Free rewards - is where you can get free rewards by watching ads.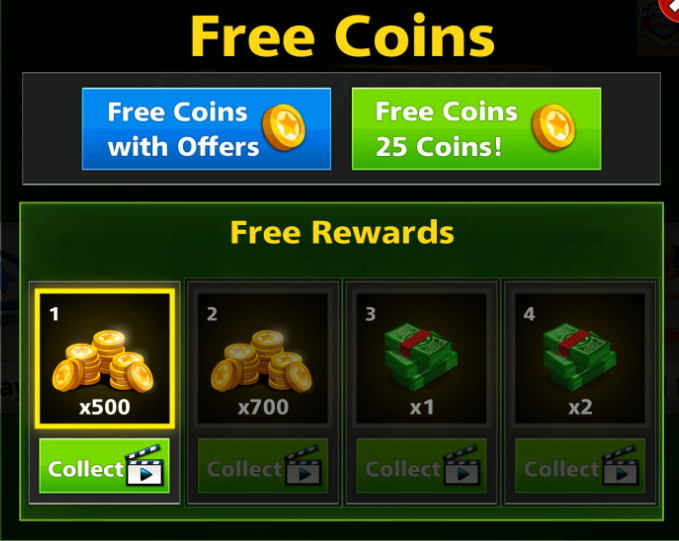 G - Game Balance - Last in this line up are the cash and coins balance. These are the main currencies in the game, and they are both equally important.
2. Settings & Inbox - You can check notifications and other messages, and the small gear will allow you to access the settings screen, where you can change the language, sound, notification, aim and friends settings.
To change the language, simply select the gear, scroll down to the language button, and select the language you wish.
3. Season Pass - Here is where you will find a the season pass screen and claim your rewards. Keep in mind that each pass lasts only one season, after which a new pass is required.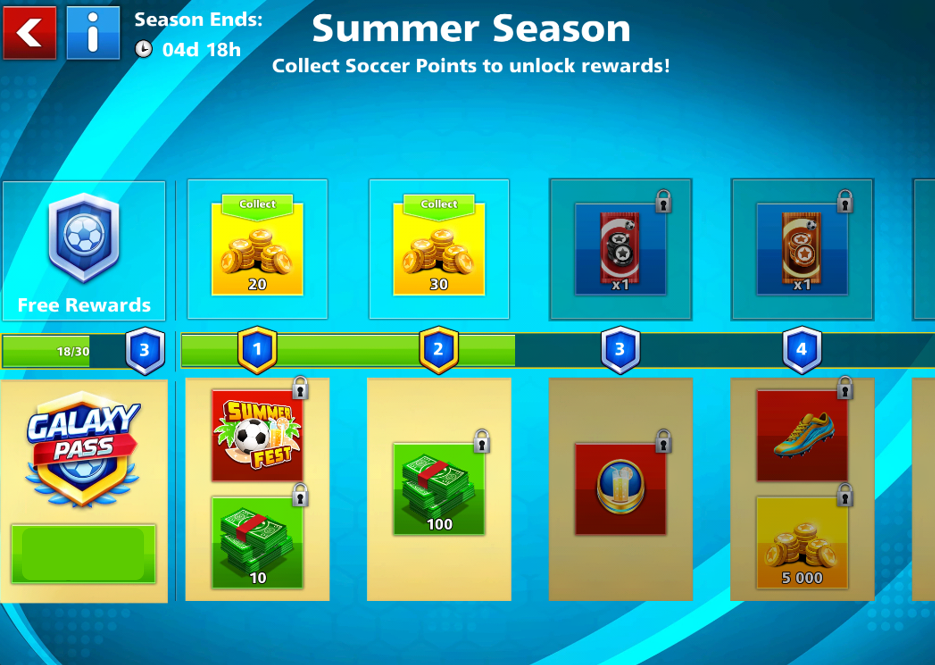 4. Game Modes - Is where you have access to the core activities in the game and also special events.
1 on 1 -
Is the standard game, where you can play stadiums around the world, each one with higher stakes than the last.
Timed Events -
The second item in the game modes lineup is the special events tab. Most special events will be displayed here, along with the leader boards for the event.
Special events -
Here you can find Trickshots & Penalties, Tournaments, and Championships.

Mini games -
The last game mode is the mini games which include, Golden Goal, Spin and Win, Scratch and Win, and surprise packs.

5. Shop - Is where you can buy most things with either cash or coins, like teams and upgrades, formations, emotes and avatars.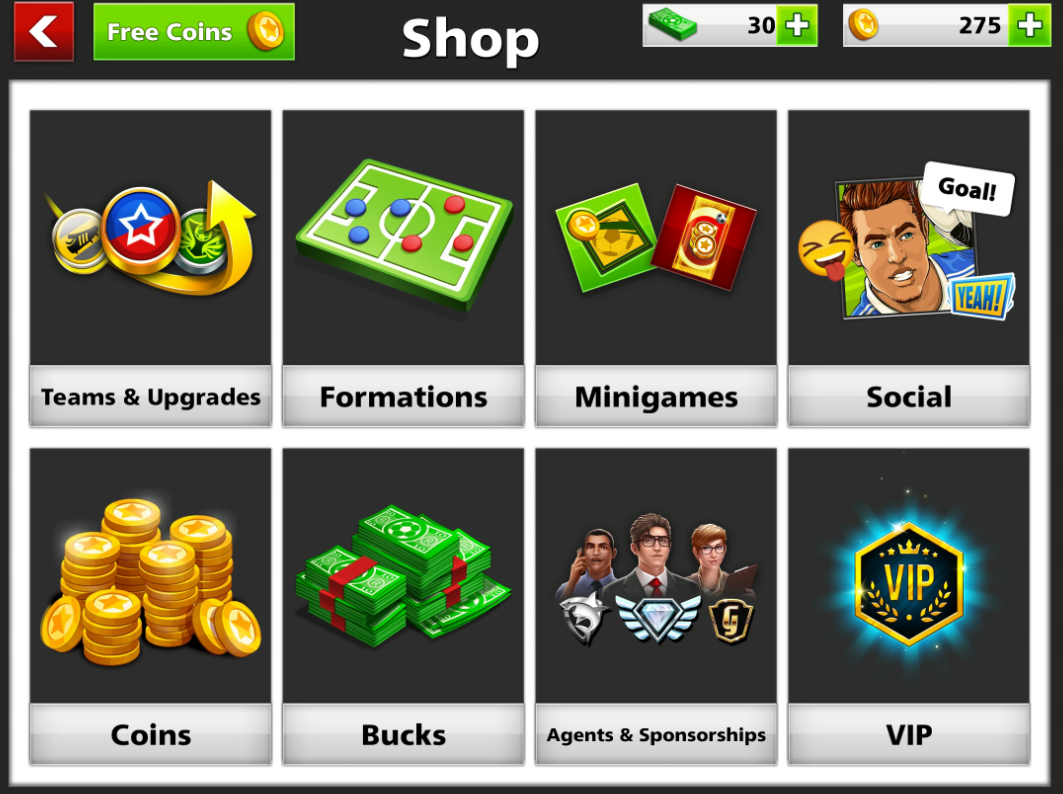 6. Pack slots - Surprise Packs are items that offer the player a group of prizes once opened. These can be:
Coins
Spin & Win
Scratchers
Team pieces exclusive to Surprise Packs
There are 3 types of surprise packs: Bronze, Silver, and Gold.
The different types of surprise packs offer different prizes. Gold gives the player access to more valuable items.
7.Special Offers - Are unique deals that can be bought to help you progress, as well as bargains that allow you to gain in-game items at a considerable discount.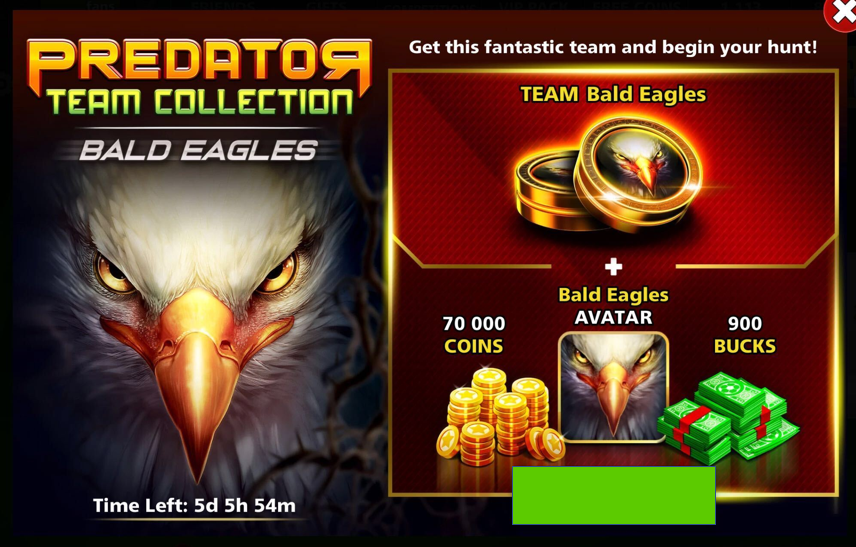 Teams & Upgrades - As the main item in your collection, each team has different characteristics and strong points.
All teams in the game have 3 stats: Power, Aim and Time. What do they do?
Force: the more of this you have, the more powerful your max-charged shots will be. Smash the ball hard, or ram other pieces out of the way!
Aim: this power adds a guideline to your pieces that extend beyond the normal arrow when taking a shot. The more Aim you have, the longer the guideline.
Time: the Time stat increases the amount of time you will have to make your shot. No need to rush things and end up missing!
Each of the three stats can be between one and ten, with higher numbers giving more of that particular bonus. Check out some examples below.


No win, no fee. So every team in the game has these three stats, with more expensive, premium teams having better numbers than more basic ones.

Teams have a "win fee", which is a percentage of your winnings that is automatically deducted upon winning a game (or coming second or first in a tournament.) This means that there's no fee if you don't win the game, apart from the coins you staked on the match, of course! A fee only gets deducted if you win the game.

Win fees vary between 5 and 20% and are balanced in regards to the stats and cost of the team. An expensive team could have average stats but a low win fee or a cheap team could have good stats but a very high win fee – it's all about choosing what's best for you. Just because a team is more expensive, don't assume it has a higher win fee… In fact, normally the more expensive a team is, the lower is its winning fee.

You can check out a team's stats and fee in the Shop before you decide where you're spending your hard-earned coins and bucks.
Team Upgrade is a feature that enables players to use Coins or Bucks to add level points to the team's stats. In other words, you are able to increase your teams' Aim, Force and Time permanently! However, to unlock this, you will have to score goals with the team you want to upgrade. You will find the number of goals needed to activate the improvement in the game's Team screen. Remember: you will only be able to upgrade teams you own!
Get those goals and max out your team!
But of course, all your effort will not go unrecognised. You will earn amazing prizes when you improve your teams! Prizes go from cool mini-games to a new exclusive team. These new squads are called Copa, Algeria, Sol, Captains and Athenian, and will have different properties. It goes without saying that you will be able to improve them as well!
Team Upgrade is an awesome feature that will let you enhance your favourite teams and beat the opposition in Soccer Stars' several game modes. It will also give you the chance to obtain some unique new teams created just for the occasion and many other surprises!
Don't miss the chance to play with the exclusive teams and smash the ball into the net.
General Gameplay - Soccer Stars is quite easy, however, with experience players can achieve things that might seem impossible!
Two-touch control
Using one finger to control a player near the sides of the pitch can be difficult on smaller screens – so use a second finger! Tap and hold the player you want to use, and then tap and drag with another finger to control aim and power. You can practice this in the Tutorial, which you can find in the Settings menu.
Use multi-touch control when using a player near the side of the field. Don't cross the line!
If a player crosses the goal line, they get automatically re-positioned a little distance from goal.
This is to stop players simply packing the goalmouth with players and stopping the action. So, if you're repositioning your players, judge the power carefully so you don't send them over the line and leave an open goal.
On the other hand, if your opponent has everyone on the line, send one of your own players smashing into them to clear them out!
You can put players on the goal line… but if they cross it, they'll be re-positioned away from goal. Don't just blast it!
A mistake that new players make is going for a max power shot, every single time. This can really work against you: the harder you hit the ball, the more difficult it is to judge where it'll end up. Going "full power" could mean that the ball ends up running free and giving the other team an easy tap-in.
Unless you're sure that full power is the only answer, try to gauge your move carefully instead.
Full power can cause you to lose control and give the other team a chance. Good positioning can win you the game.
Just like real soccer, keeping your players in useful positions can be the difference between winning or losing. Soccer Stars is all about balancing attack and defence – and having your players bunched in one place, out on the side of the pitch, is going to lead to a quick goal for the opposition.
Here's what happens when you leave your goal completely undefended. You don't always have to play the ball.
Just because you can hit the ball doesn't mean you have to. In some cases, the smartest move will actually be away from the ball, as you can use your turn to shift a defender into a good blocking position or bump an opposition player out of the way.
If the ball is safe, it sometimes makes sense to leave it there. Kick-offs are important.
You can't score straight from the kick-off – it's a foul, and your opponent gets the turn instead. However, you can get the ball very close to goal, and make it awkward for the other team to dig it out.
One thing to remember though: a match of Soccer Stars can be lost with a bad kick-off. If you play a poor shot, it can leave the other team with a clear line and you could be 1-0 down before you've even really got started.
There are lots of good ways to kick-off… but also some bad ones. Practice!
Soccer Stars combines strategy with physics-based play… and the best way to up your skills is to play lots of matches. Get used to the way the ball bounces off the side of the pitch, and experiment with different formations until you find one you're most comfortable with. Practice won't make you perfect… but it'll certainly make you a lot better.
Troubleshooting -
If you cannot connect to Soccer Stars using your regular Social Network (Facebook or Google+), try the following:
Close all apps in the background
Disconnect from the used Social Network in the settings area of the device
Restart the device
Reconnect to the used Social Network
Restart the game
See if the issue is still persisting. If so, please open a ticket with our Player Experience Team.
Closing Notes - While the game seems complicated, once you have grasped the core concept, everything else will come natural. Don't let a couple of lost matches bring your moral down, as they say, practice makes perfect, and with enough practice you can bring home the victory with any team.
We hope this article helped clearing some questions and gave you some tips to improve your game style!
Let us know what you think of Soccer Stars. All constructive feedback is welcome.
Good Luck in the field and have FUN!! 👍