Hi Ballers!
We are bringing back the most wanted Pool Pass Seasons in a Flashback style - where there is something for everyone!
Flashback: Season of Bling - December 23rd - December 30th (2021)
Flashback: 2020 Gala Season - December 30th - January 6th (2021)
Flashback: Season of Temptation - January 6th - January 13th (2022)
Flashback: Warrior Season - June 8th - June 15th (2022)
Flashback: Fantasy Season - August 17th - August 24th (2022)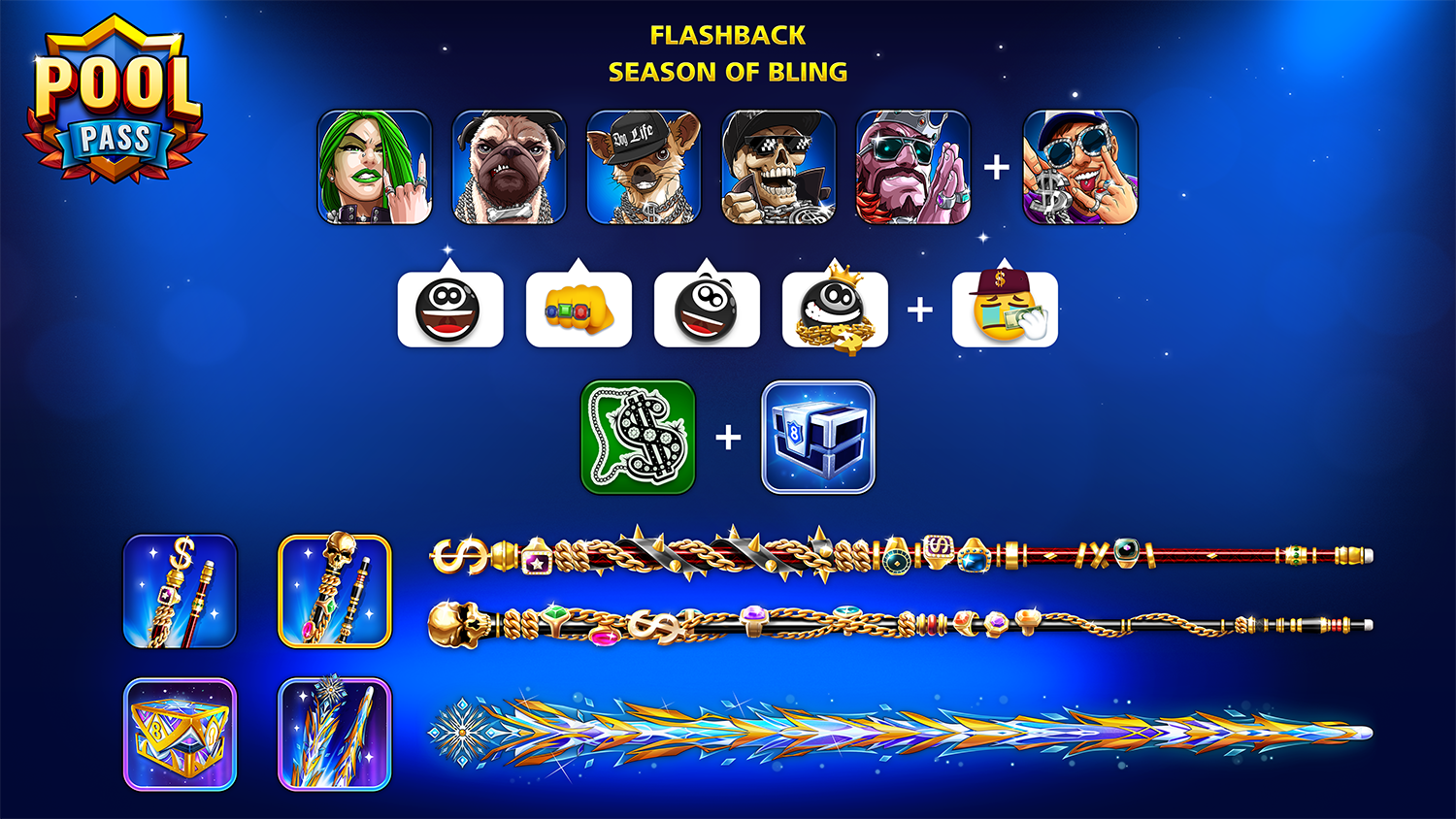 The Flashback Seasons are a revised version of their original Seasons, with more exclusive prizes than ever, that contain a mix of classic and remastered rewards from the original Seasons.
All players will be presented with the same set of rewards on all Flashback Seasons, independently of having collected the rewards from the original Seasons or not.
Collectors may notice a few small changes: Avatars and Emotes have had a few tweaks, so everyone will get to enjoy the seasonal content while maintaining the exclusivity of the original versions.
All the Cues will remain the same as the originals, but their level caps have been increased, meaning that these Cues can be upgraded even further.
Each Flashback Season will also contain new exclusive content for players to add to their collection: a new Avatar, one new Emote, two Chat Packs, plus a Table Sticker.
And there is even more!
Each Season will come with Flashback boxes as bonus boxes, which contain Cue Pieces from previous Pool Pass Seasons.
All Flashback Seasons will also reward pieces from the Wishing Star Cue to help players evolve it to its true form!
Players can get the Premium or the Elite Pool Pass on a bundle until December 29th, which will unlock the Premium Rewards of all three Flashback Seasons, or get them individually when each Flashback Season starts.
Flashback Seasons will start on December 23rd and run for 7 days each. Players will get more Pool Points on all tables and daily missions, to make sure they have the time to complete all Flashback Seasons.
Last, notice that all Flashback Seasons will run back-to-back, so we encourage players to keep collecting their rewards before each one ends, just to make sure they are not missing out.
We hope everyone has a lot of fun during the Flashback Seasons!

Now, it is time to hit the tables!