Hello guys!
Here you can find some answers to your questions about the Cue Collection Power.
Enjoy!😊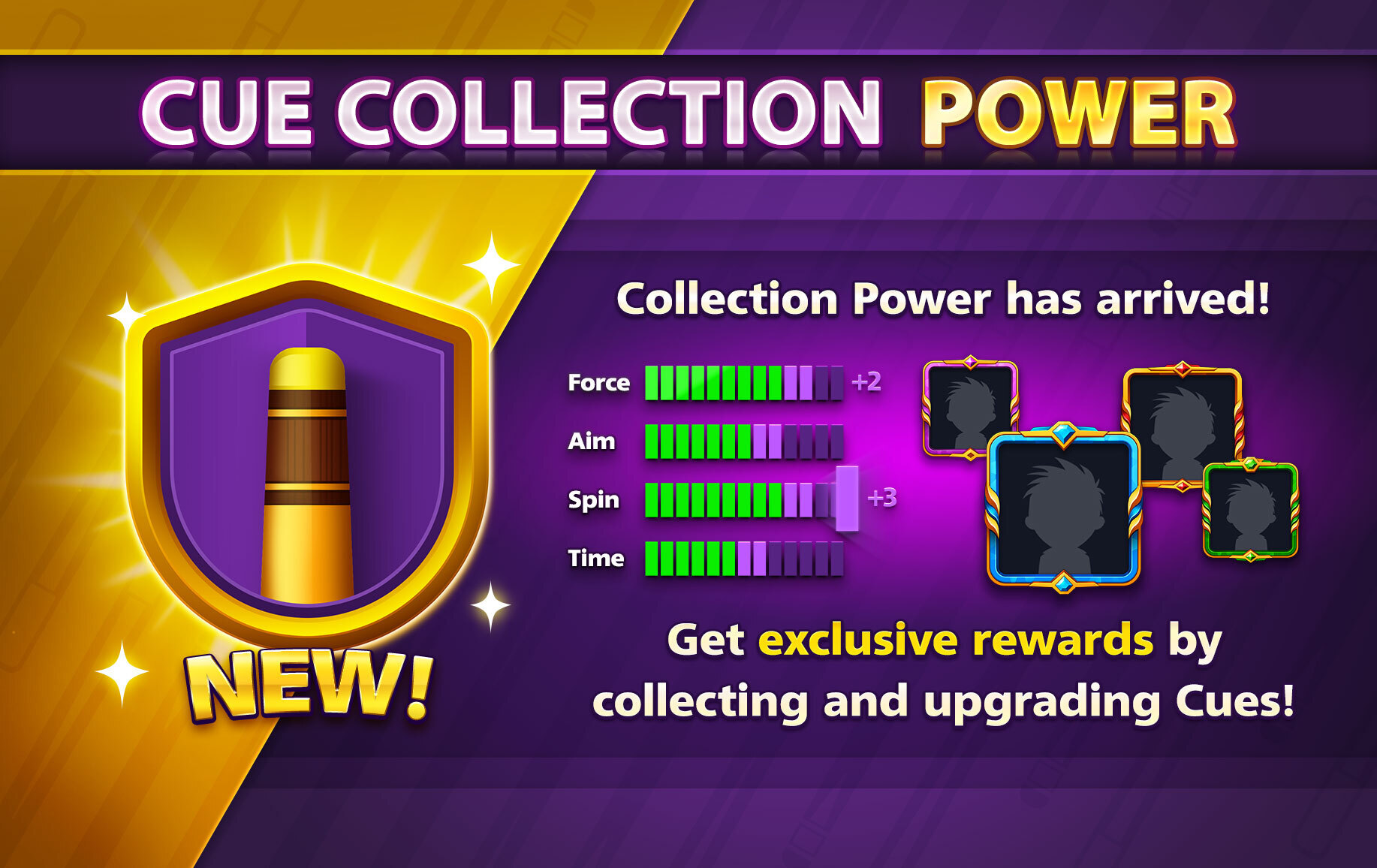 What is Cue Collection Power?
Cue Collection Power is a brand new feature, that grants you prizes and exclusive perks, based on your existing Cue Collection! The more Cues you own and upgrade, the greater your Collection Power would be!
How do I increase my Cue Collection Power?
Every time you win, buy or upgrade a Cue, you'll get Points that increase your Collection Power. The harder it is to get that Cue, the more Points it will give!
What do I get from Cue Collection Power?
Every time you reach a certain Collection Power milestone, your Collection Power Rank increases. Each rank has its own prizes, such as Cash, Minigames, Avatars, Stickers and Chat Packs. Also, Cue Collection Power can unlock two exclusive new rewards: Avatar Frames and Bonus Stats!
What are Avatar Frames?
Avatar Frames are the newest style addition to make your Avatar stand out! Win these by unlocking Specific Power Ranks through your Cue Collection.
What are Bonus Stats?
This is a game changer! In 8 Ball Pool, we have 4 Cue Stats: Power, Time, Aim and Spin. Before Cue Collection Power, each of these Stats could only increase up to 10. Well not anymore! Bonus Stats grant additional stat points to ALL your Cues . You can unlock this Bonus Stats perk by progressing and increasing your Power Rank.
How many Bonus Stats can I get?
The maximum available now is an extra 3 per stat (Power, Aim, Time, Spin). That means that you'll be able to increase your Cue Stats by a total of 12 Points!
Can I get more than 10 total points on my cue's stats with Bonus Stats?
Yes, Bonus Stats allow cues to go past the usual limit of 10 points per stat.
Do I lose Cue Collection Power if I refund a cue purchase?
Yes, you will also lose Collection Power when refunding any Cue Purchase.
Do I lose Cue Collection Power from the Vulcan and Jupiter Cues if I unsubscribe from the Pro Membership?
Yes. If you lose access to the Pro Membership exclusive Cues, you will lose all Collection Power linked to those Cues and Cue upgrades.
Do I get Cue Collection Power back if I resubscribe to the Pro Membership?
Yes, if you subscribe to the Pro Membership, you will get Collection Power from both the Vulcan and Jupiter Cues, as well as for the upgrades done previously to those Cues.
The game looks different!
We're making room for Collection Power and other upcoming features (stay tuned!). Some in-game menus were changed as a result.