The Pool Pass is a seasonal event, where you can win multiple exclusive prizes by showing your skill and winning games. The more you win, the further you will progress!
You can collect Pool Points by playing our 1v1 Tables, Tournaments and 9 Ball Tables, as well as by completing Daily Missions.
Accumulate Pool Points to increase your rank within a season and get to Max Rank to claim all prizes! Each Season, the Premium Pool Pass will include exclusive rewards and perks, that will remain active for the duration of that Season only.
For the Beta version of the Premium Pool Pass, this Perk will make all Victory Boxes open twice as fast.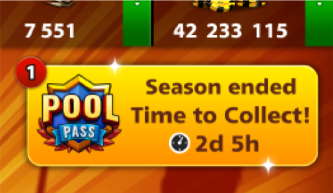 If you wish to know more about the current season, please check Seasons and Season Passes (8 Ball Pool)