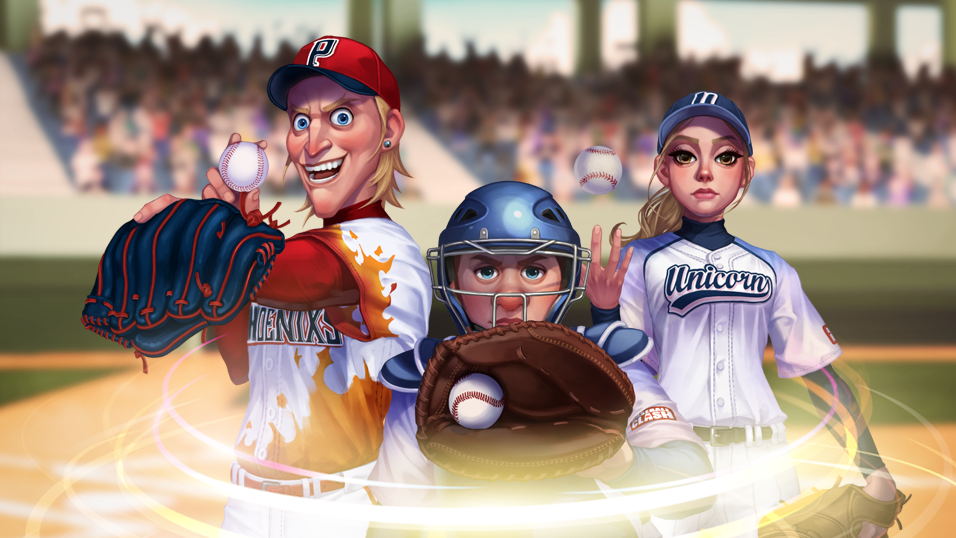 The 5th in-game balance patch has arrived. In this patch, we've made adjustments to the balance of some pitchers and catchers, addressing biases towards certain players. Let's delve into the specific changes below.


Pitcher Adjustments
1. Roger's Stats adjustments
| | |
| --- | --- |
| | Roger has been a dominant force in pitcher usage statistics. To provide other pitchers with more opportunities on the mound, we've made slight adjustments to his velocity and spin stats. |
| | |
| --- | --- |
| Before | After |
| | |
2. Riley's Skill adjustment
Riley's skill becomes more potent based on the runner's situation. However, we've observed that the skill's impact is too significant due to it's relatively ease of activation during extra innings. As a result, we've slightly reduced the skill effect from +6% to +4% per base to improve game balance.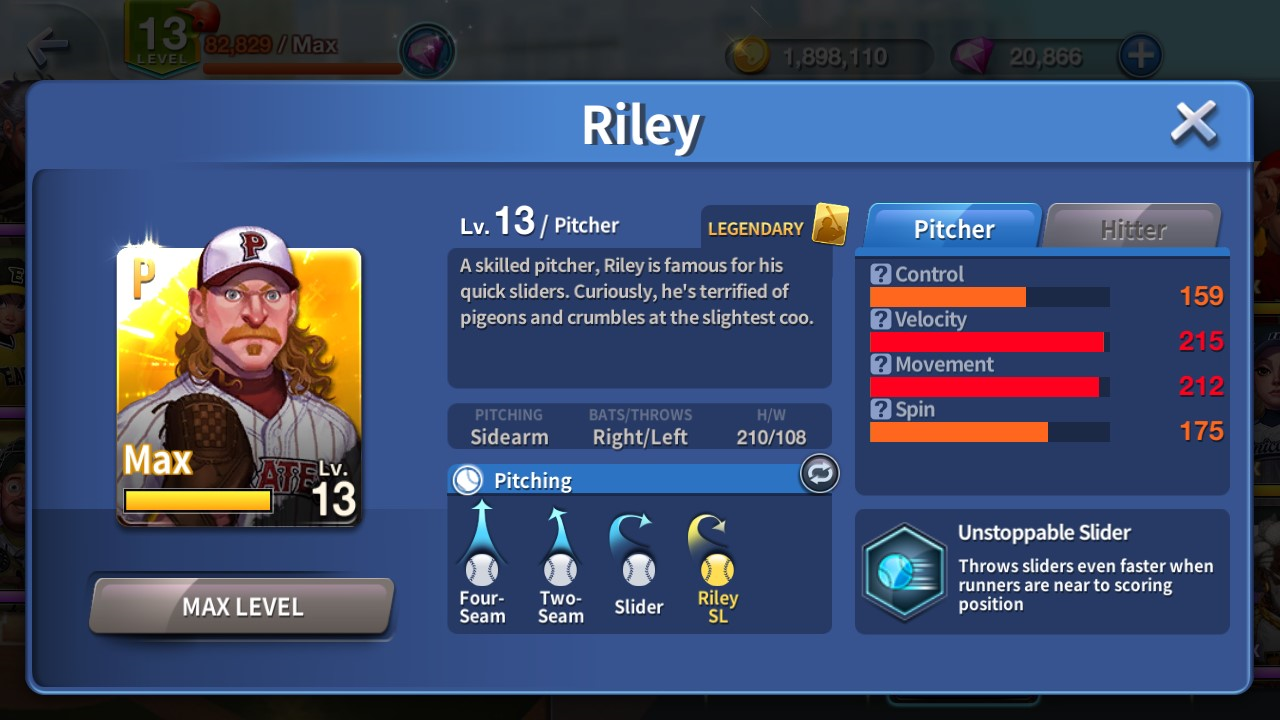 3. Marie's Skill and Pitches adjustment
We've heard your consistent feedback about Marie's pitches being excessively fast and difficult to bat. Recognizing that the skill efficiency is "excessively high", we've decided to slightly reduce the velocity when her skill is activated, from +30 to +25.
We've also decreased the velocity of her special pitch, 'Marie 4-seam,' to achieve better game balance.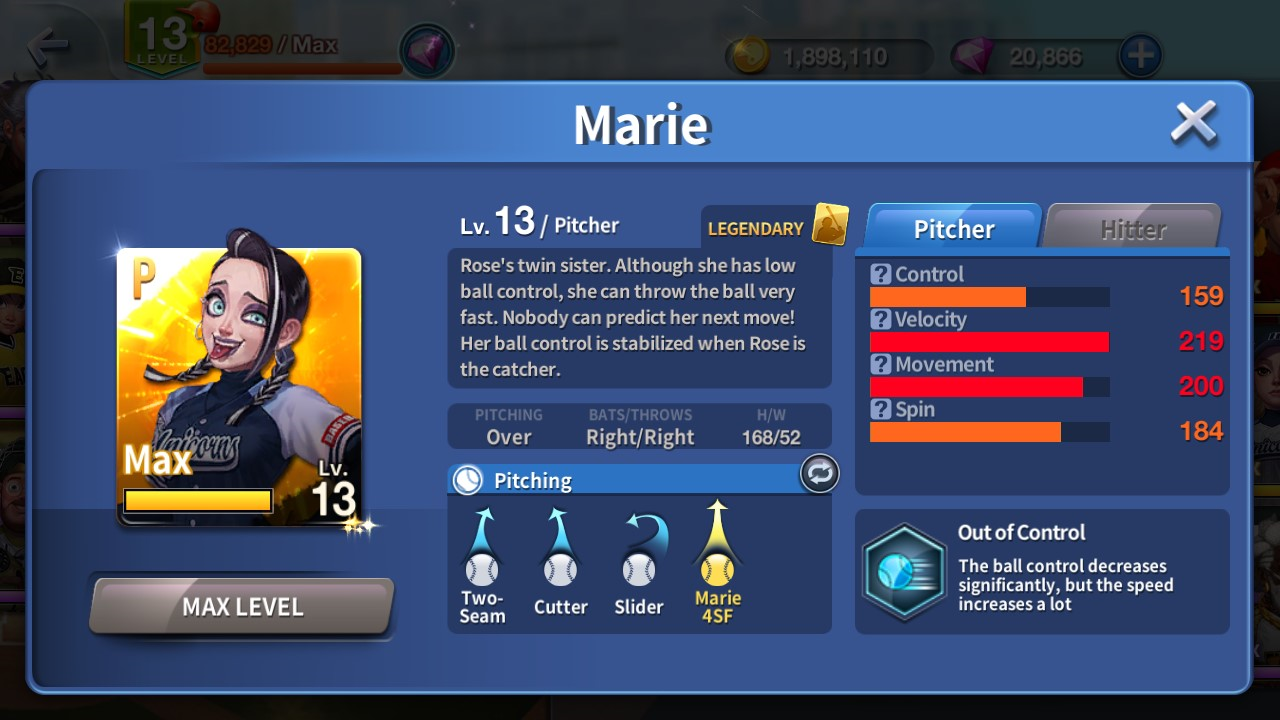 4. Maria's Skill improvement
To address Maria's low usage rate, we've slightly enhanced her skill effect. All batters' throwing stats boosted by her skill have increased significantly, now providing a +15 boost instead of +10.
5. Meiling's Skill improvement
Meiling's skill, which increases spin on each strikeout, has been challenging to stack for a competitive advantage on the mound. Now, even a single successful strikeout significantly boosts the spin, allowing continuous enjoyment of the skill effect. Upon the first strikeout, the spin stat increases by +30%.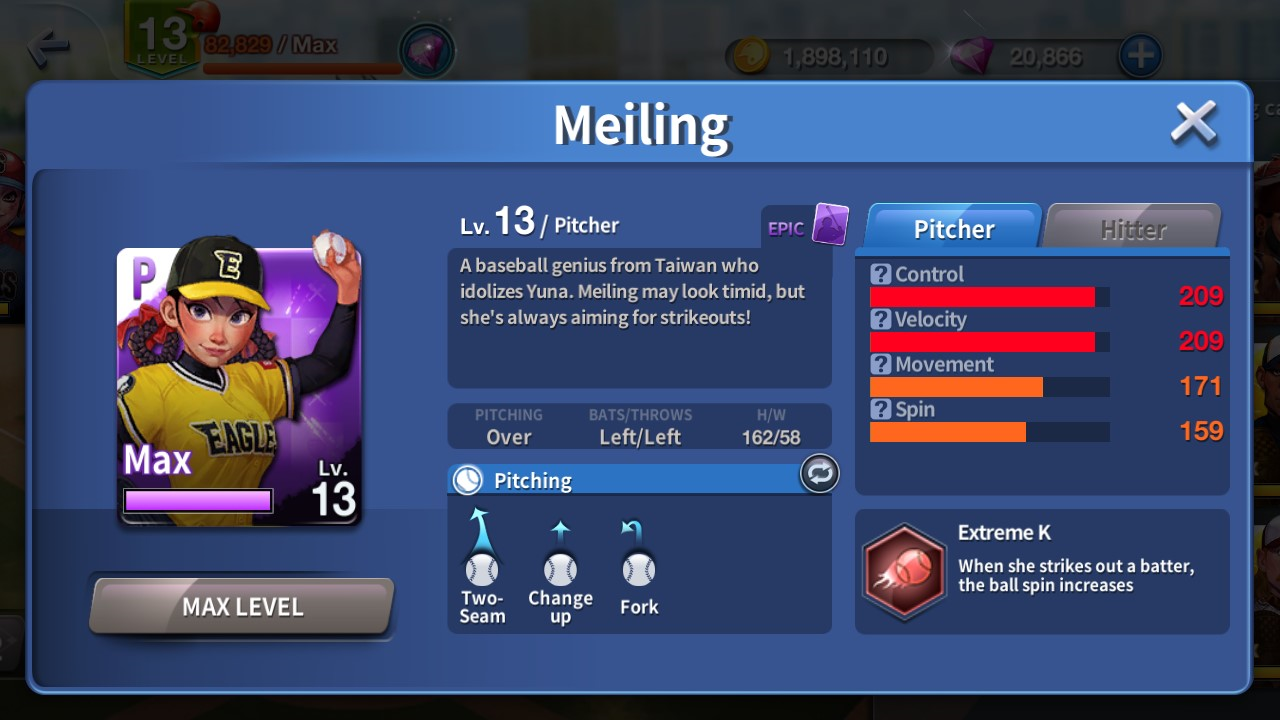 Adjustments to Catchers
1. Jessica's Stats adjustment

| | |
| --- | --- |
| | Jessica ranks among the top catchers due to her potent skills and batting abilities. Her usage remains high and continues to rise. To maintain her powerful skills while ensuring game balance, we have slightly reduced her batting stats. |
| | |
| --- | --- |
| Before | After |
| | |
2. Matthew's Stats adjustment
| | |
| --- | --- |
| | Matthew, another elite catcher alongside Jessica, has consistently seen increased usage. In order to provide opportunities for other catchers, we have slightly decreased Matthew's batting abilities while preserving his unique skills. |
| | |
| --- | --- |
| Before | After |
| | |
3. Angelina's Skill improvement
Despite the previous balance patch, Angelina's usage remains low. To encourage her use as a starter, we've slightly enhanced the effect of her skill. The contact stats of all batters boosted by her skill now increase from +5 to +8.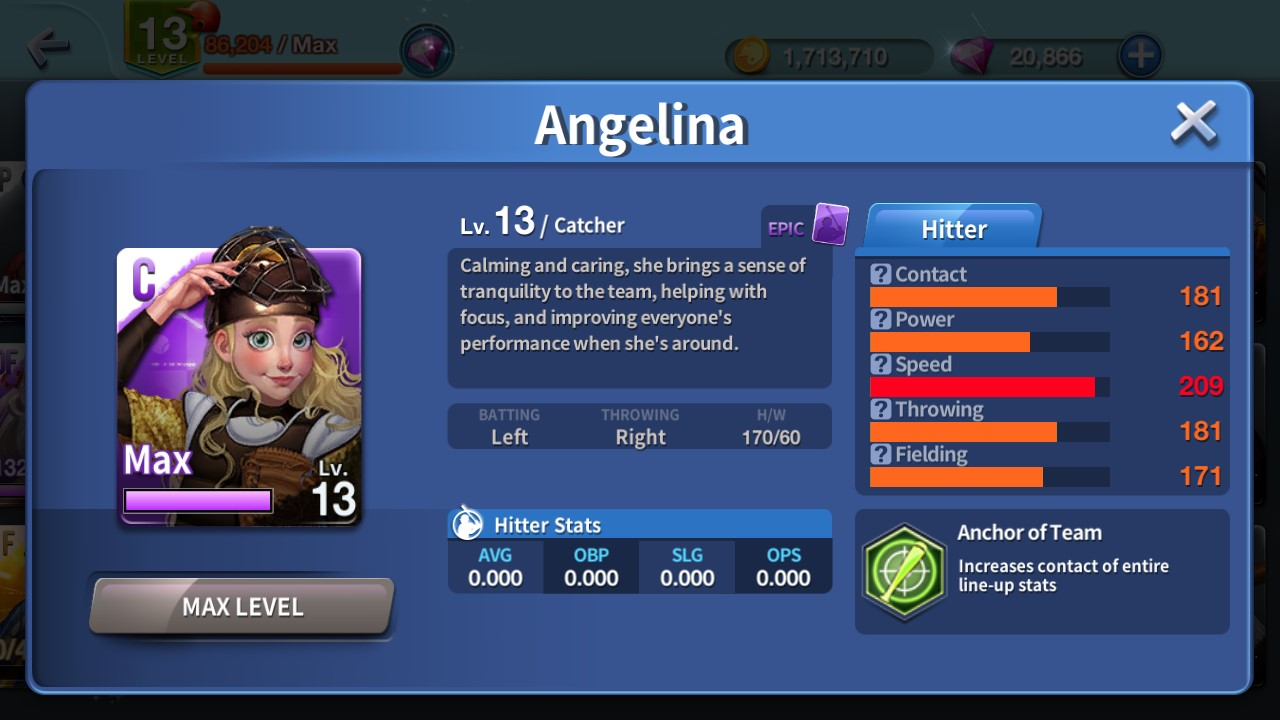 4. Edward's Skill improvement
Edward still averages the lowest usage rate among catchers. To address this, we've made a slight buff to his skill effect.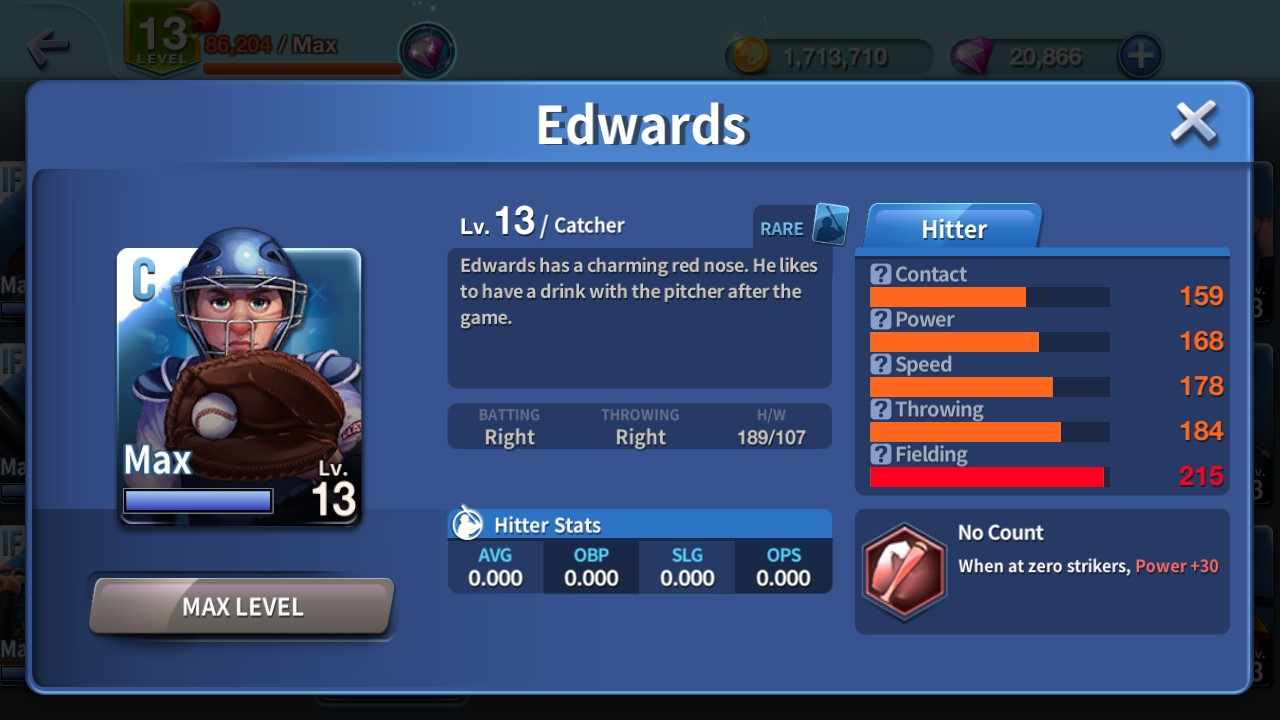 5. Tony's Skill improvement
Despite a previous buff, Tony's usage rate remains very low. To provide Tony with more opportunities as a starter, we've slightly enhanced his skill effect.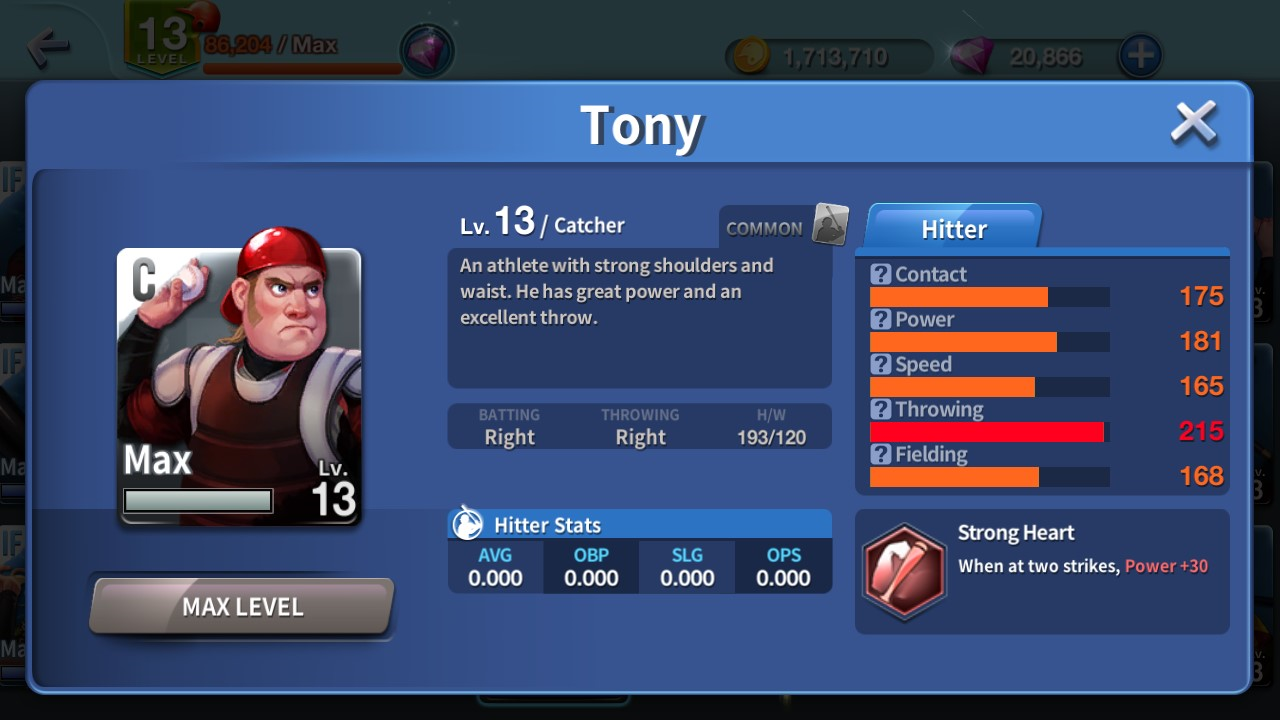 That concludes this balance patch! We hope these adjustments enhance the usage rates of some cards and alleviate the issue of frequently encountering the same players in the game, thereby offering a greater diversity of characters in-game and improving your player experience.

What are your thoughts on this balance patch?
Let us know on Facebook and Instagram.
Let's play ball!