Welcome to Carrom Pool: Disc Game, a multiplayer board game developed by Miniclip! The main goal is to pot all your pieces before your opponent does.

In this article, you will learn the basics of the game and what you need to get started. First of all, if you haven't already done so, you can find the game available for download below:
Your first steps in the game!

Completing the Tutorial
When you enter the game for the first time, you will be taken to a quick tutorial where you will learn the basics of Carrom Pool.
Here, you will get a quick introduction over the controls and mechanics of the game. Simply follow the instructions!
Your first match
Upon completion of the tutorial, you will immediately be taken into your first match, where you will have the chance to show your newly learnt skills against another player!
Creating an account
After you're done with the tutorial and your first match, it is highly recommended that you save your account. This can be done by linking your account to either your Apple account, Google or Facebook.
This is the best way to make sure your account is saved and that you won't lose your progress. Additionally, linking your account to your Facebook will allow you gain access to extra features, such as gifts and the ability to challenge or invite your Facebook friends to play with you!

Note that it is also possible to play as a guest, however, keep in mind that your progress can get lost if your clear your device's cache or reinstall the game. In this case, the Player Experience team won't be able to recover that data.

Please take a look at the following article for more help: Why and how to save a guest account
Exploring the Home Screen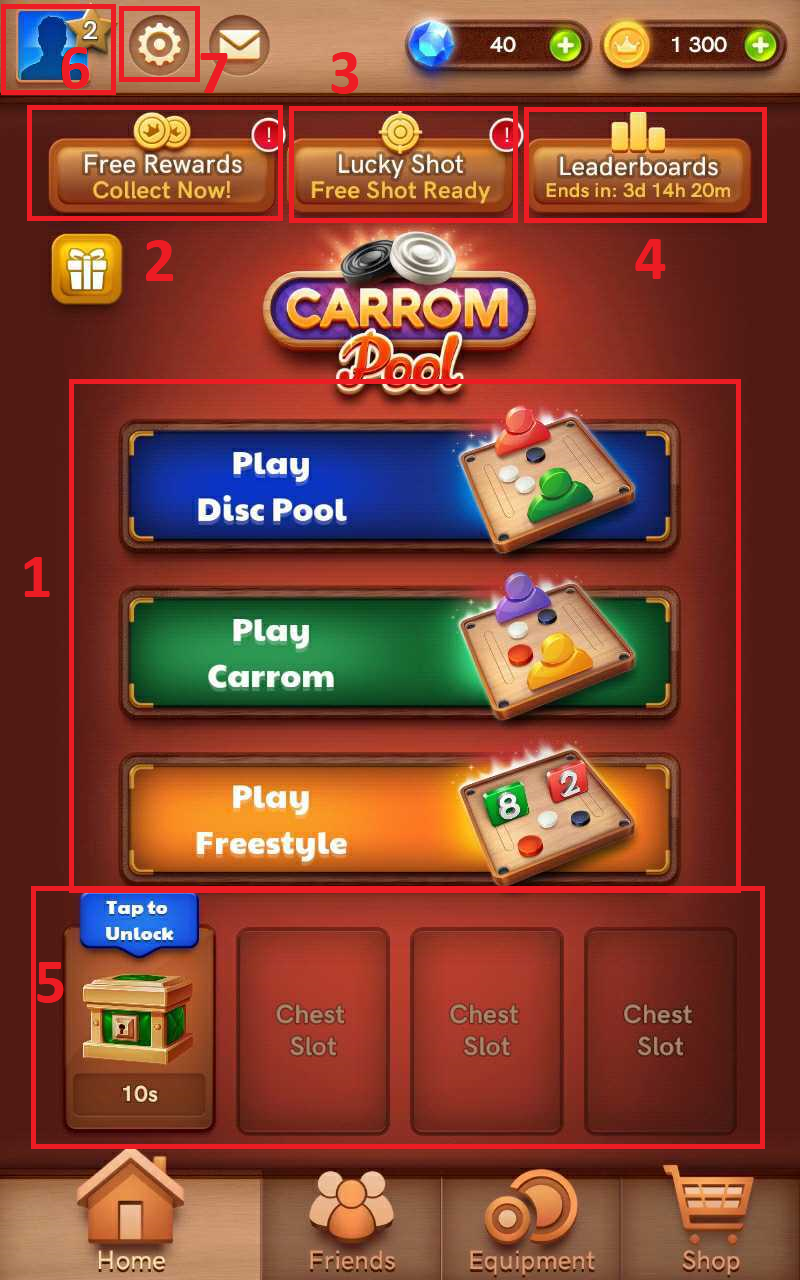 1. Game modes

You will find 3 different Game modes available:
- Disc Pool - The goal in this mode is to pot all your pucks before your opponent.
- Carrom - This mode includes an additional puck, the Red Queen. Here, the Red Queen must be potted and covered immediately in the same turn. The Red Queen can be potted anytime but it must be potted before the last puck. However, regardless of who pots the Red Queen, the one clearing the table first is declared the winner.
- Freestyle - In this mode, you have to score 120 points first to win! The Red Queen is worth 50 points, while the white puck is worth 20 and the black puck is worth 10.
2. Free Rewards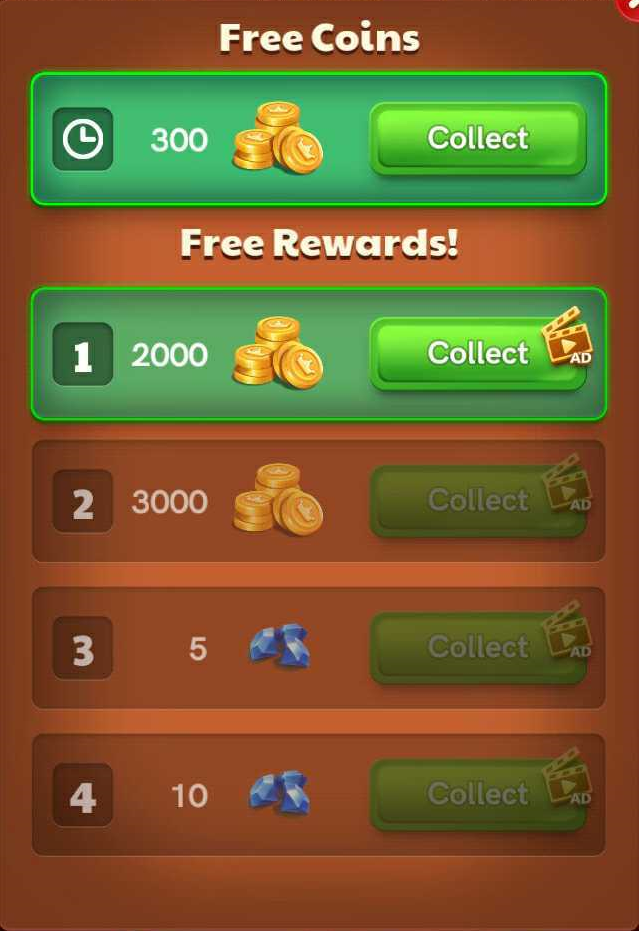 On the top left of the screen, you will find the "Free Rewards" menu - in here, you will be able to collect your free coins daily and you can also watch ads for some extra coins and gems! It's important to keep in mind that you might not always have ads available to watch. In that case, you must simply wait until new ads are available so that you can collect new rewards.
3. Lucky Shot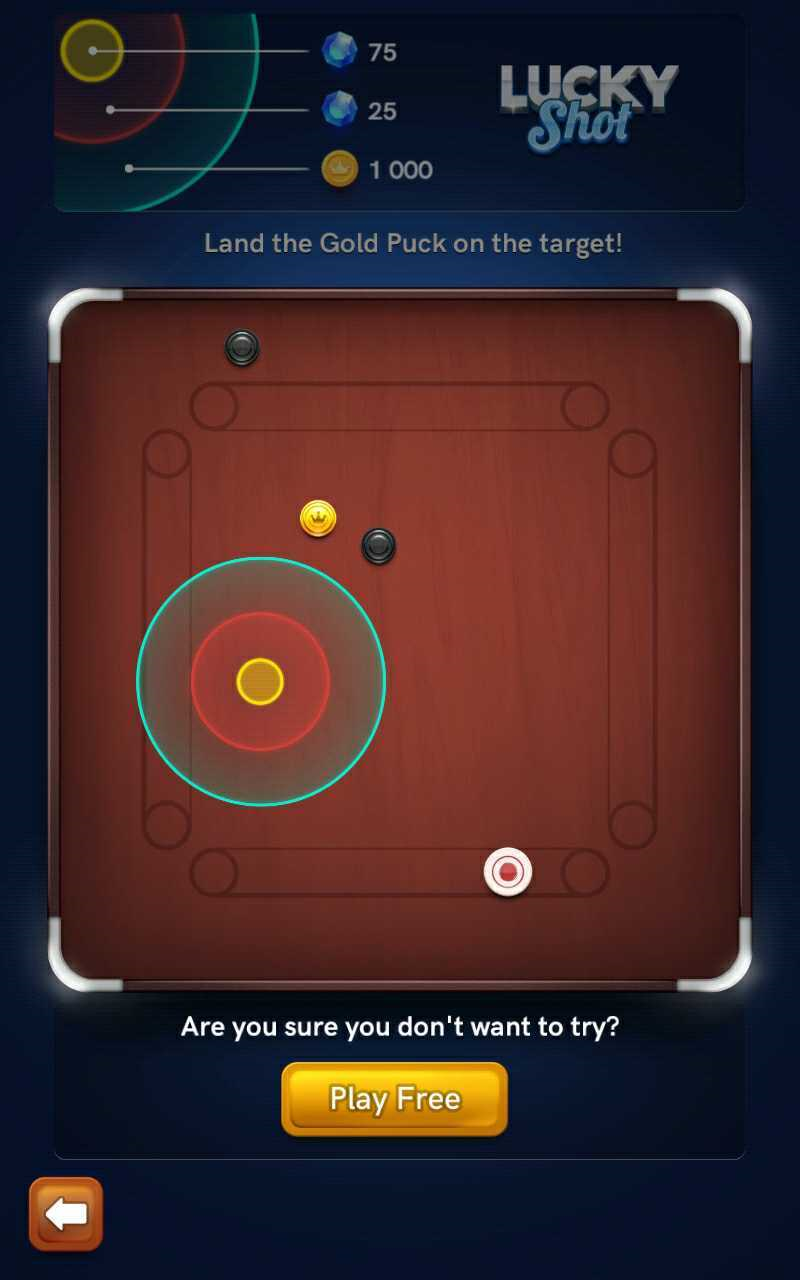 Just like in other Miniclip games, Carrom Pool also offers you a chance to land a Lucky Shot! The goal is to land the Gold Puck on the target in order to get the prize. This mini game can be played once a day.
4. Leaderboards
If you like to compete, this is the place for you! In this menu, you will be able to find all the weekly leaderboards available in Carrom Pool. These rankings are based on your total weekly winnings. We have 4 different leaderboards:
League Leaderboard: In this leaderboard you will see your standing for the current league you're in. This leaderboard includes 10 different leagues, you can find information regarding them all by pressing the information icon on the top right of this screen right next to "Last week results". Rank up to move into the next league!
Friends Leaderboard: Here you can keep track of your standings in comparison with your friends.
Country Leaderboard: Here you will be able to see your standing in your country.
World Leaderboard: Here you will find the most competitive leaderboard, where you will compete against players from all over the world.
5. Chest Slots
After you win matches, you have the chance of getting chests as rewards that will fill your chest slots. The chests that you can win are: Bronze, Silver or Gold. They require a certain amount of time to be opened and you can only unlock one at a time. However, if you spend gems, you can open them instantly!
6. Player Profile
This is the place where you can find all your information, such as your level progression, statistics, ranking records, avatars, frames and more!
7. Settings
Here you will be able to adjust your settings. You can find ways to link and save your account, game options to better adjust the game to your preferences and more information regarding Miniclip, Terms & Conditions and Privacy Policy.
Friends menu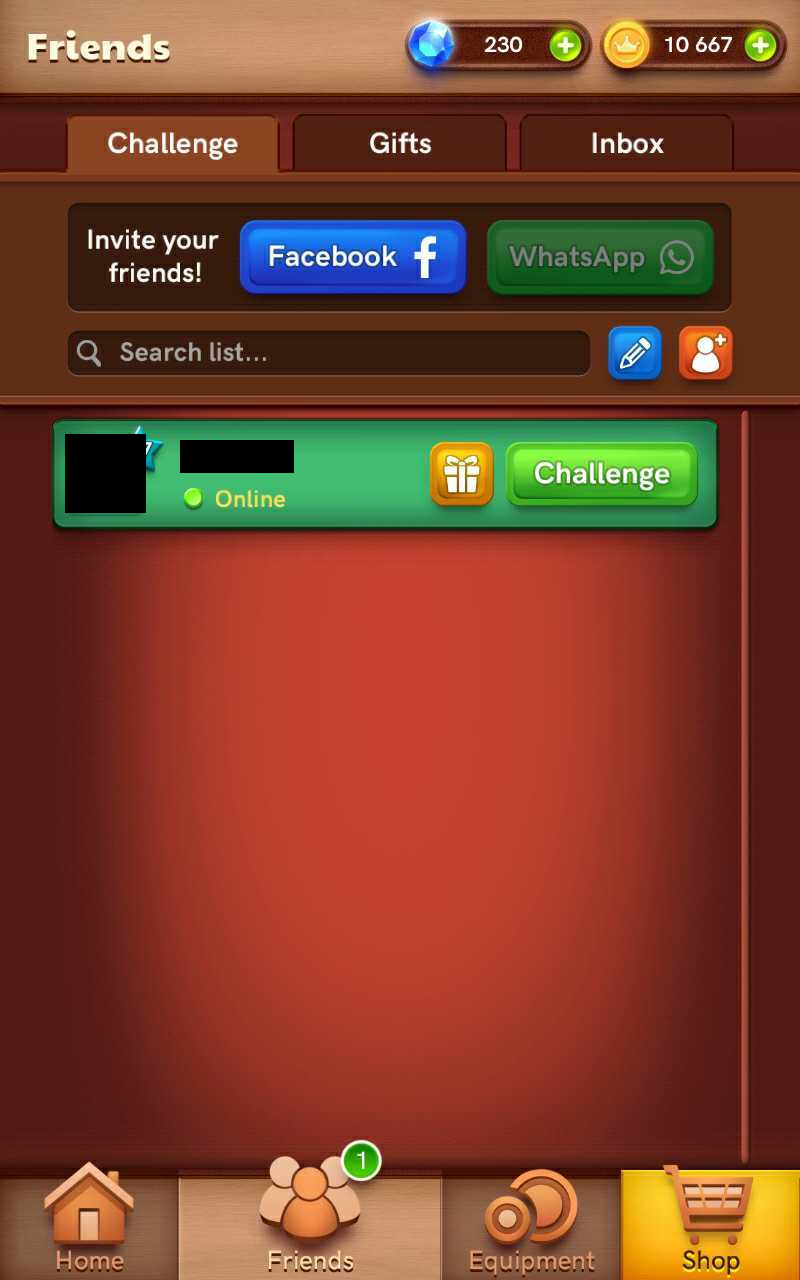 In this menu, you will be able to find and challenge the friends that you've added via Facebook (in case you linked your account) or through the game. You can also check their in game progress and send/request gifts once per day!
Equipment menu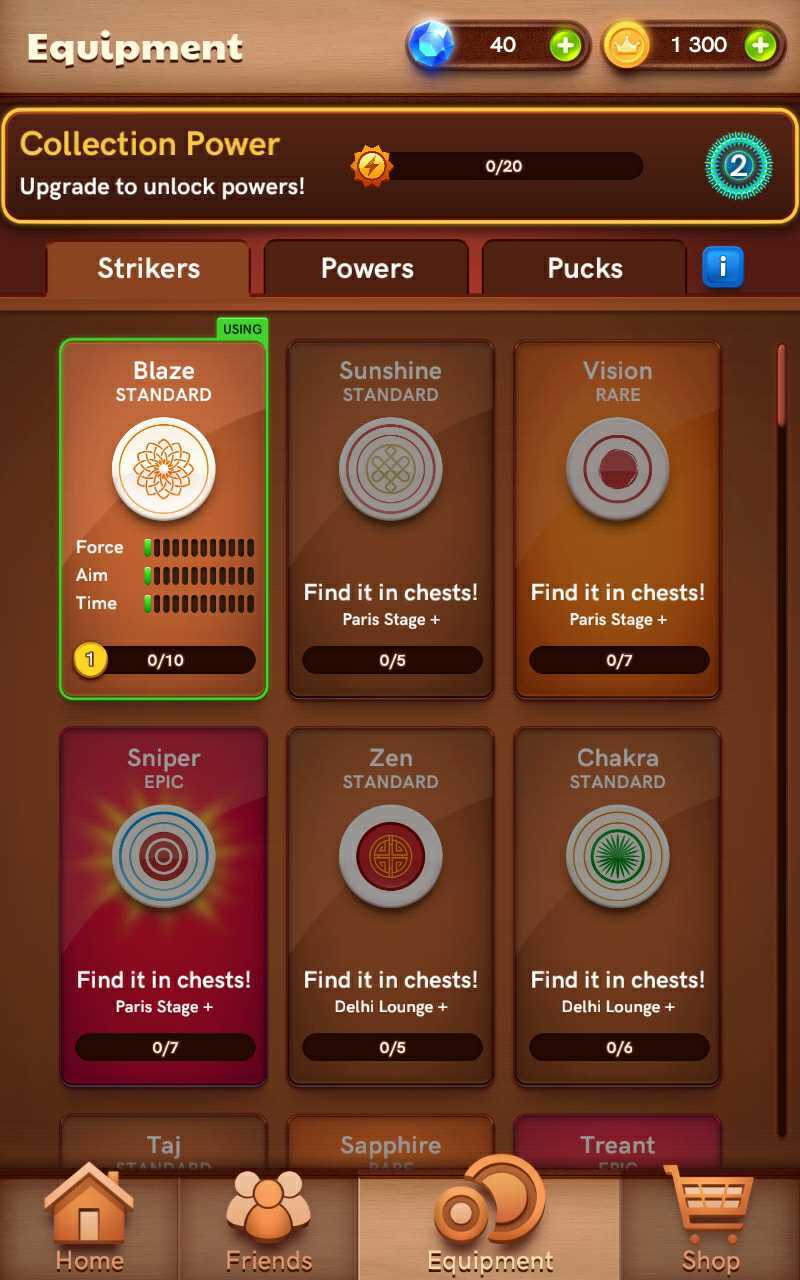 Down at the bottom of the home page, you will find the "Equipment" tab. There, you will be able to select which strikers, powers and pucks you want to use for your next games! You can find upgrades for those in the chests you get for winning matches!
Strikers - Here you will find a variety of strikers that focus on 3 main stats: Force, Aim and Time. The Force will determine the strength of each shot. The Aim determines the length of the aim guideline and the Time will determine the maximum time to make a shot.
Pucks - In this menu, you will be able to personalise your pucks with a variety of colors and themes, beat your opponents with style!
Powers - These powers will improve your striker. By unlocking and upgrading equipment, you will gain points that you can use to unlock new powers. The process of unlocking new powers can be tracked by the "Collection Power" bar you see on top of the page.
Shop menu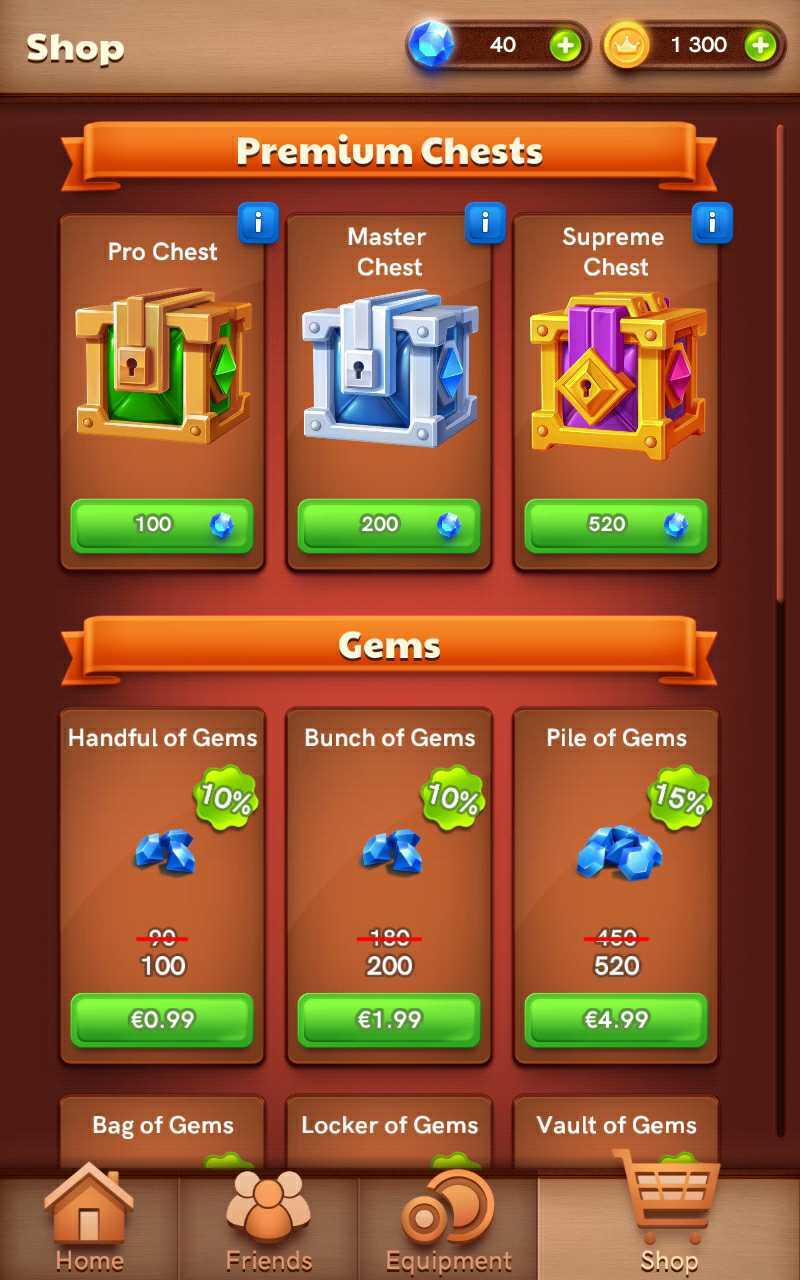 In the shop you will be able to find all the available offers. You can purchase chests, gems or coins!
You have 3 types of premium chests available: Pro, Master and Supreme, that will offer you a variety of rewards.
That's it! These are all the tips you need in order to start your Carrom Pool career. We hope you have fun in the game and don't hesitate to provide your feedback on our social media pages! 😀️