Hello Ballers,
Since Miniclip.com has changed, the Web/PC version of 8 Ball Pool has a new domain, https://8ballpool.com/en/game
It now also includes our new 8 Ball Pool Official Shop, in which many more payment methods are supported.
There have been no major changes, and the 8 Ball Pool you know and love has stayed the same. Some things have been moved around to improve the user interface, but the changes are minor, and we're confident that our community will get used to the new version quickly.

Take a look below to see the changes!
Login:
You can log in with a guest account or you can use Miniclip ID or Facebook.
All you have to do is click the login button in the top right corner or select the blue button which says "Login with Miniclip ID".
8 Ball Pool Official Shop:
The web shop allows you to purchase coins, cash and other offers for both versions of the game, mobile or web. It also support many payment methods and allows you to be more flexible with your purchases.
Logging in will allow you to buy items in the currently logged account, however, if you wish to buy items for a different account, or for your mobile account, all you need to do is insert your unique ID in the field seen in the picture below, and the content will be sent to the correct account.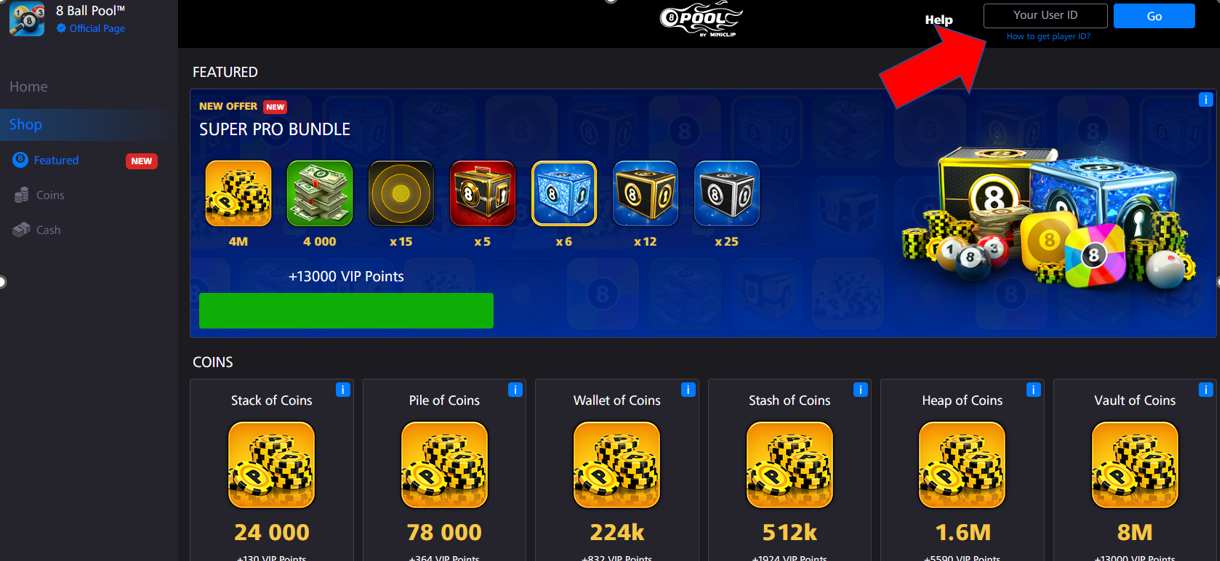 VIP Multiplier:
The VIP multiplier will be added to the shop as soon as you insert your unique ID. The amount of coins and cash change depending on your VIP level. The same will apply for the VIP points received.
I hope you have fun in the game and always feel free to provide additional feedback on our social media pages or to the Player Experience team!