Complete the tutorial
Even a champion needs some practice, so as first thing you will need to complete the tutorial to warm up with the game mechanics and controls!
In case you need to play the tutorial again, you will be able to do so from the Settings menu (Setting>Tutorial>Play again)
Your adventure begins!
After the tutorial, you will be able to start playing against other players and show your true potential!
First of all, make sure to save your account connecting it to Facebook (Android and iOS devices) or Apple ID (iOS devices only) so you won't risk to lose all your game progress. Check this article to see how to save your account: Why and How to upgrade a Guest Account?💾
Here's a quick overview of the Main Menu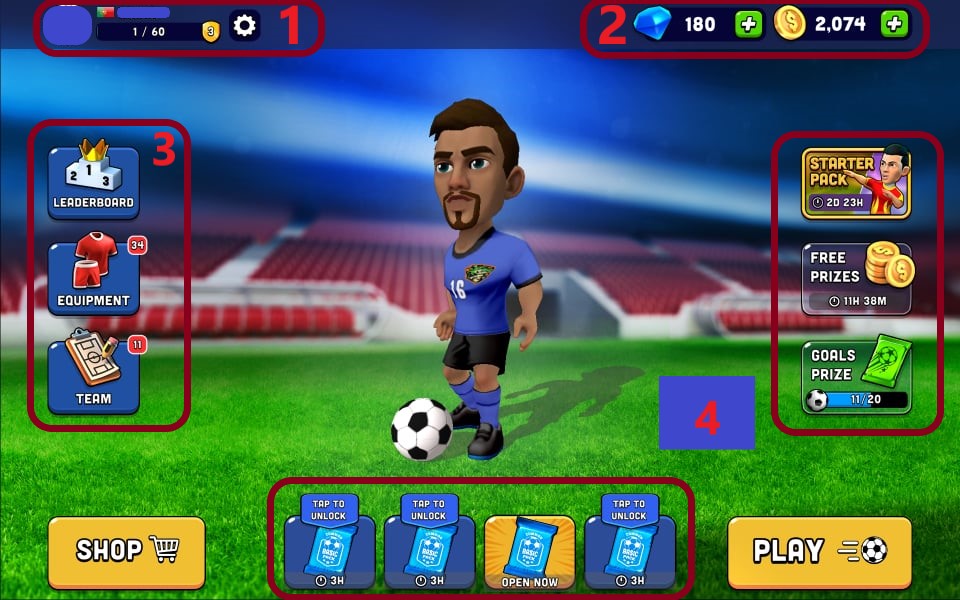 1. Your Player Name and Avatar, Country Level, XP (experience points) and Settings
2. Your in-game currency balance: Gems and Coins
3. Leaderboard (Global, Country and Friends), Equipment (to personalize your players and team visuals: logo, jersey, shorts, shoes, etc) and Team (to change the formation, the active players and the bench and upgrade your team).
4. General rewards that you can earn in the game such as the packs (after winning a match or scoring a specific amount of goals) or the free daily rewards.
5. SHOP (bottom left) will take you to the game Store and PLAY will allow you to start a match against other players!
Let's play a match!
In the main menu, tap on "PLAY" to start a match!
You will be able to start a match in different STADIUMS (you can unlock new stadiums by levelling up).
Each Stadium has a different entry fees (the amount of coins you need to pay in order to participate in the match) and prizes (the amount of coins you will receive in case of victory!).
Make sure to choose the right Stadium depending on your skills and team strength, the highest the Stadium the more challenging the match will be.
Try to practice and play in the lowest Stadium until you feel comfortable enough to move to the next one!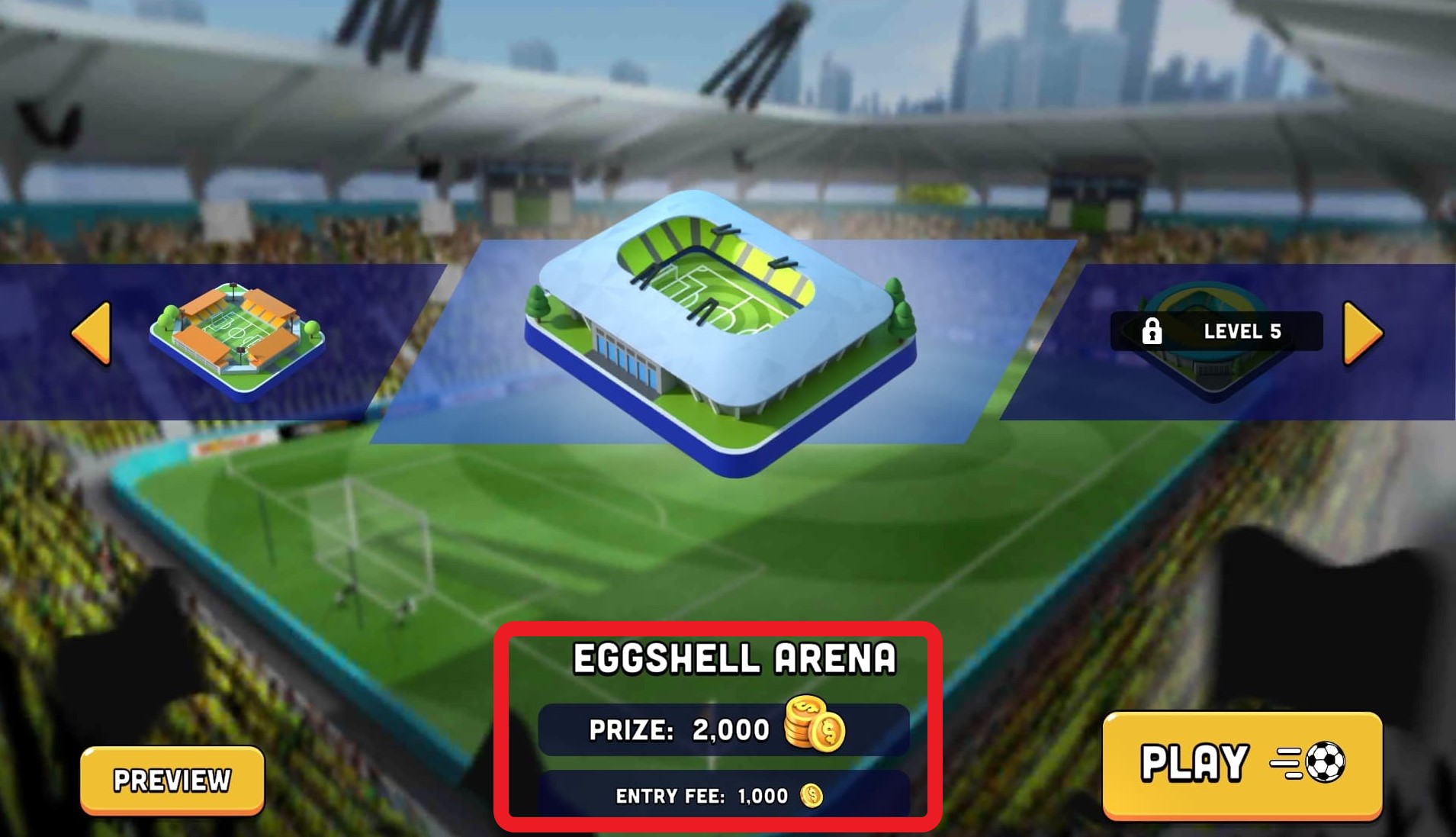 What are the benefits of playing multiplayer matches?
If you win a match you will be able to gain XP, the coin prize and packs! This is the key in order to progress in the game and create a stronger, unbeatable team!
Check also this page to know how to get more free rewards every day: How can I get free gems/coins/packs?💎
If collecting all the players is not enough of a challenge for you, remember that you can play more competitive and try to dominate the leaderboards (Friends, League, Country and Global) in order to show who's the best player and get even more rewards!
As mentioned before, the highest the Stadium the more challenging the match and experienced your opponent will be. Bear in mind that sometimes the best offense is a good defense, especially when you are already winning!
How can I increase my team strength and optimize my team formation?
You can improve your team statistics by selecting TEAM in the main menu.
First of all, select your Team tactic form the Formation menu to decide how many Defenders, Midfielders and Attackers you want in your team. More formation will be available when you level up!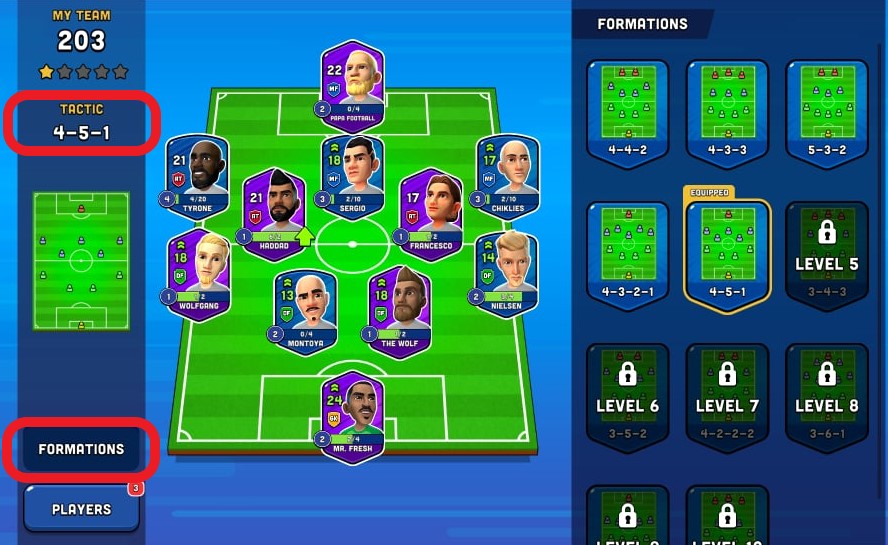 After, check the Players in your team and make sure that you have selected the best players from your rooster!
Each player's icon indicate: player's strength, player's role (GK: Goalkeeper, DF: Defender, MD: Midfielder, AT: Attacker), player's level (inside the circle on the left) and the amount of card owned for that specific player (cards are used to upgrade the players).
To change an active player, just drag the player from the Bench to the Field!
Check this article to have more detailed information regarding your team Strength: How is Strength calculated?
Why is my Team Strength important?
Strength is the way of measuring the quality of a team, and it's calculated by the total rating of each active player in the team. The system will combine players of similar Strength.
Check How does the matchmaking system work? to have more detailed information regarding the matchmaking system.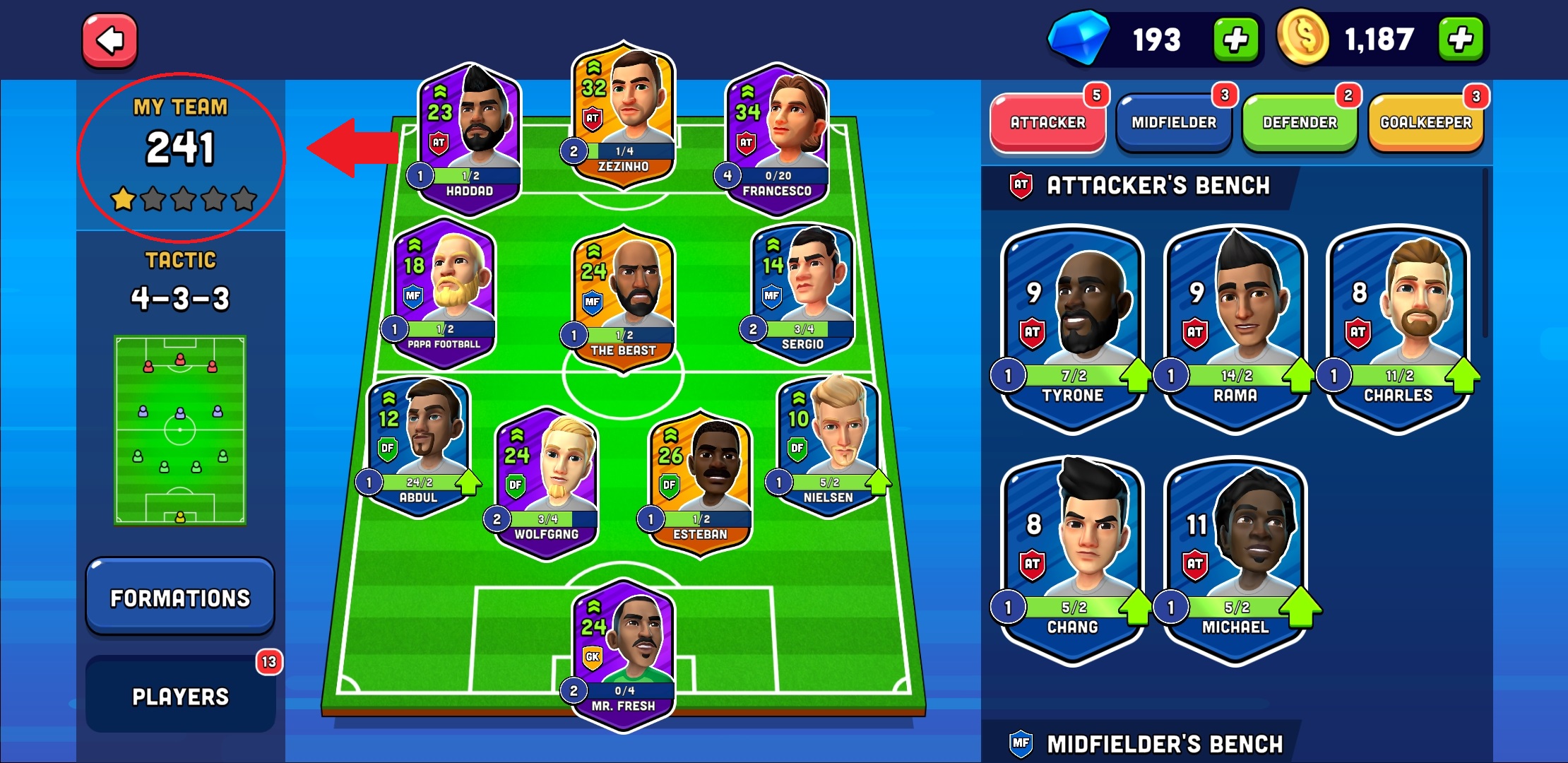 Can I personalize my Team?
You can personalize several visual aspects from your team! Go to EQUIPMENT from the main screen and choose the designs that you like the most for balls, jersey, shorts, socks, shoes and team logo and name!
Check this page to have more detailed info on how to change your Team name, abbreviation, logo and country: Can I change my name or profile picture in Mini Football?